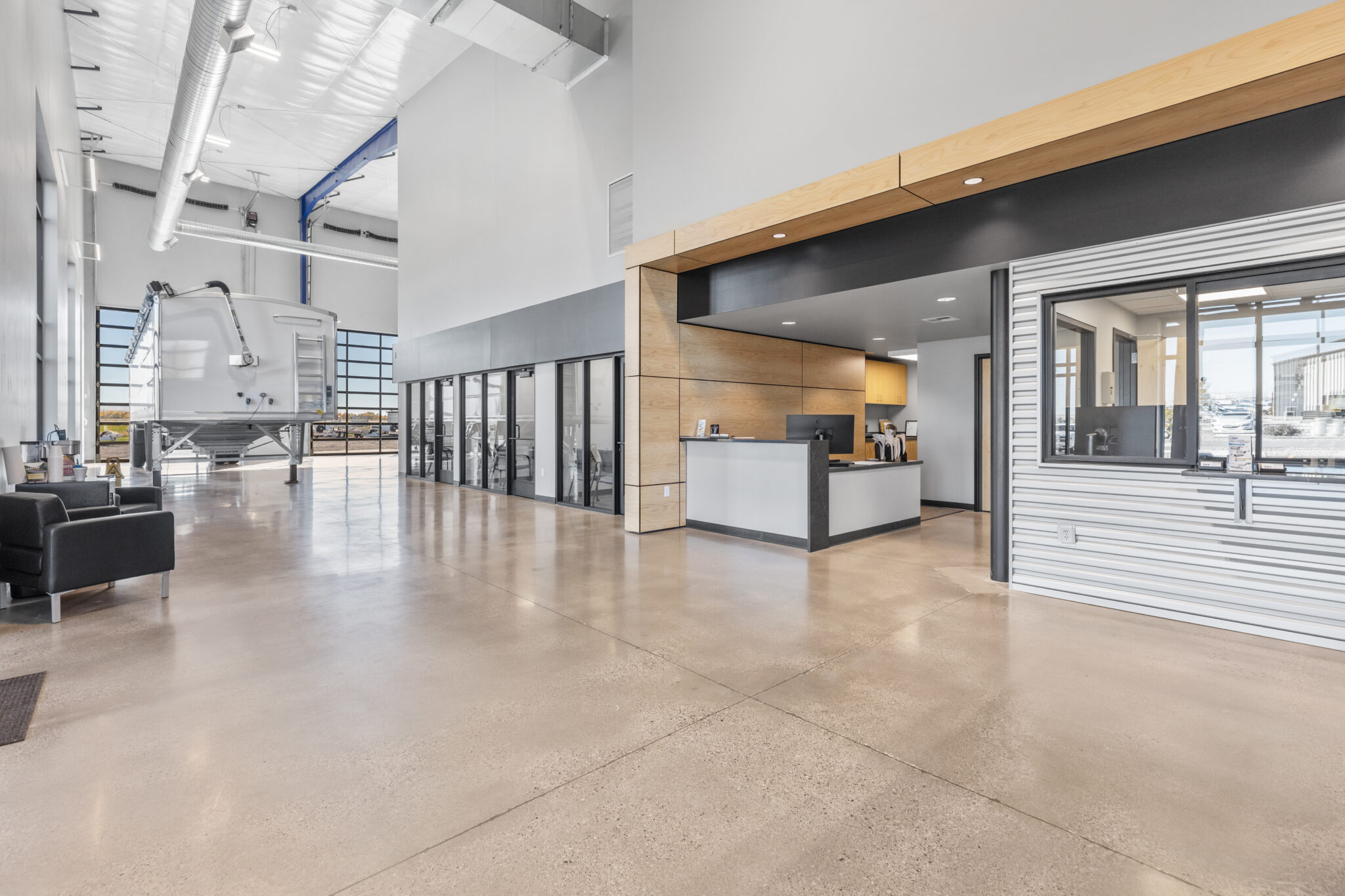 3 TIPS TO HELP REDEFINE YOUR INDUSTRIAL ARCHITECTURAL DESIGN PROJECT
Modern industrial and manufacturing facilities typically follow precedents set during the onset of the Industrial Revolution by responding to essential needs for functionality and efficiency of process. Whether these facilities are defined as warehouses, factories, mills, or distribution centers, design strategies have evolved since the early decades of the mass production, and industrial revolution in the late nineteenth century.
With advances in technology, logistical strategies, safety standards and globalization, the performance aspects of these facilities have changed radically. Still, more can be gained in the planning of high-performance industrial architecture by examining these three design tips.
Consider Adaptability, Employee Comfort and Sustainability in your next industrial architectural facility.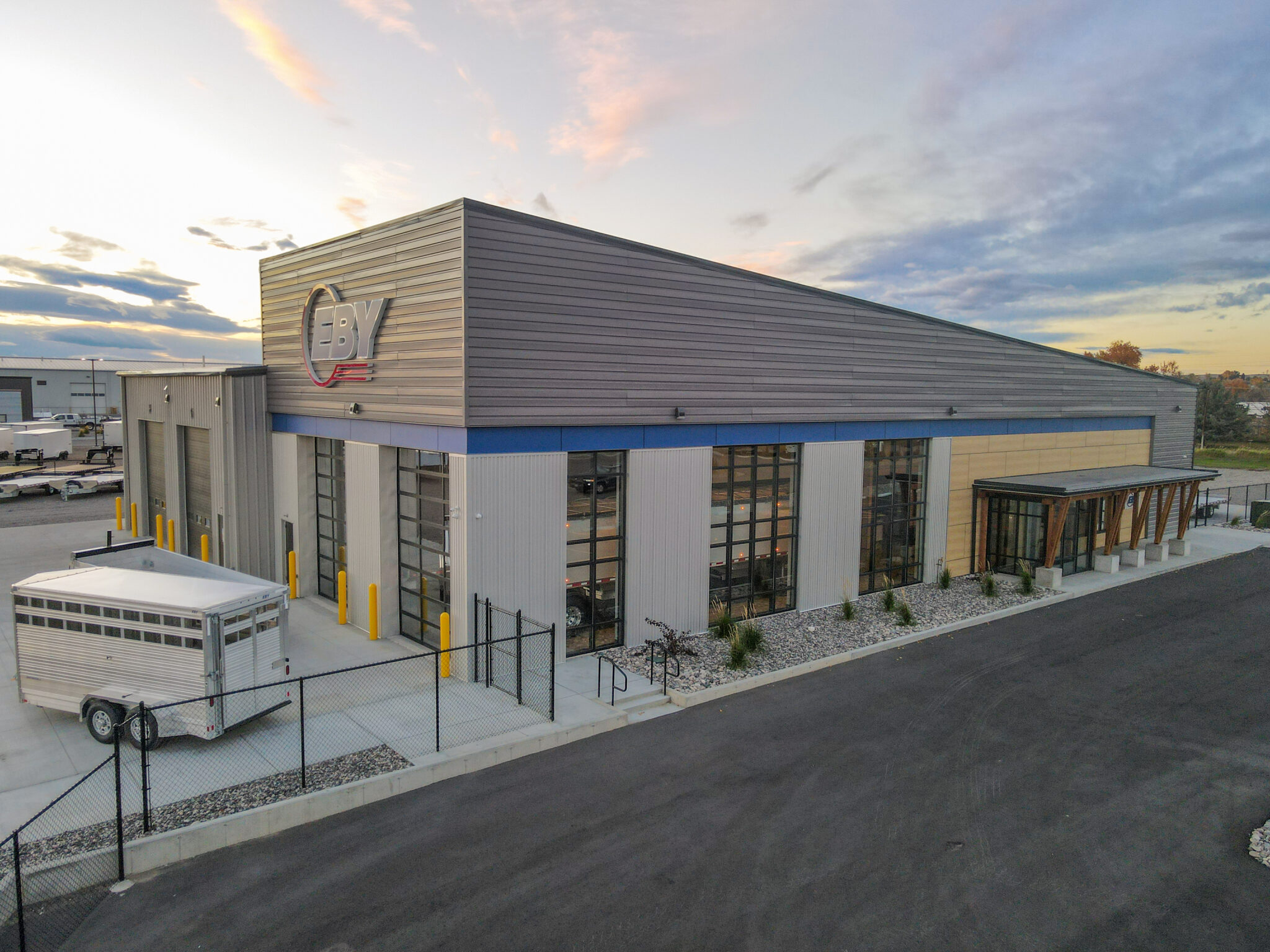 CONSIDER ADAPTABILITY FOR YOUR INDUSTRIAL ARCHITECTURAL DESIGN
As prime locations for industrial development become scarcer and proximities to transportation infrastructure, distribution networks and skilled labor are limited, new industrial facilities need to be planned for adaptation and expansion. Flexible architecture with taller interior clear heights, larger structural bay spacing and fewer interior fixed elements better accommodate changing production and fabrication techniques.
By siting facilities to create opportunities for upward or lateral expansion in at least two directions, building owners have opportunities to pivot when production demand increases or when older manufacturing methods become obsolete. Industrial facility owners should expect change, thereby embracing a development attitude that lends itself to flexibility over the lifespan of the property.
Office and support functions such as break areas, locker rooms and restrooms should be situated in such a manner as to not restrict future reconfiguration changes for the manufacturing, production or warehouse areas. By thoughtfully locating core utility infrastructure in areas least disrupted by long-term adaptation and by providing for convenient expansion of electrical, fuel source, water, and sanitary services, the facility may be augmented with little downtime or inconvenience to staff and management.
In the planning of a recent expansion for a precision machining and instrumentation facility, Director of Architecture for TONO Group, Kyle Solyak, AIA states "careful consideration was given to the siting of the 24,000 square foot addition to maximize the available footprint and provide the owner with future expansion opportunities. By creating a series of long-span steel frames and a non-bearing end wall, the owner can create additional footprint without interrupting existing processes."
Ultimately, these planning techniques increase property value by extending the useful life of the architecture and offering adaption strategies for ownership teams.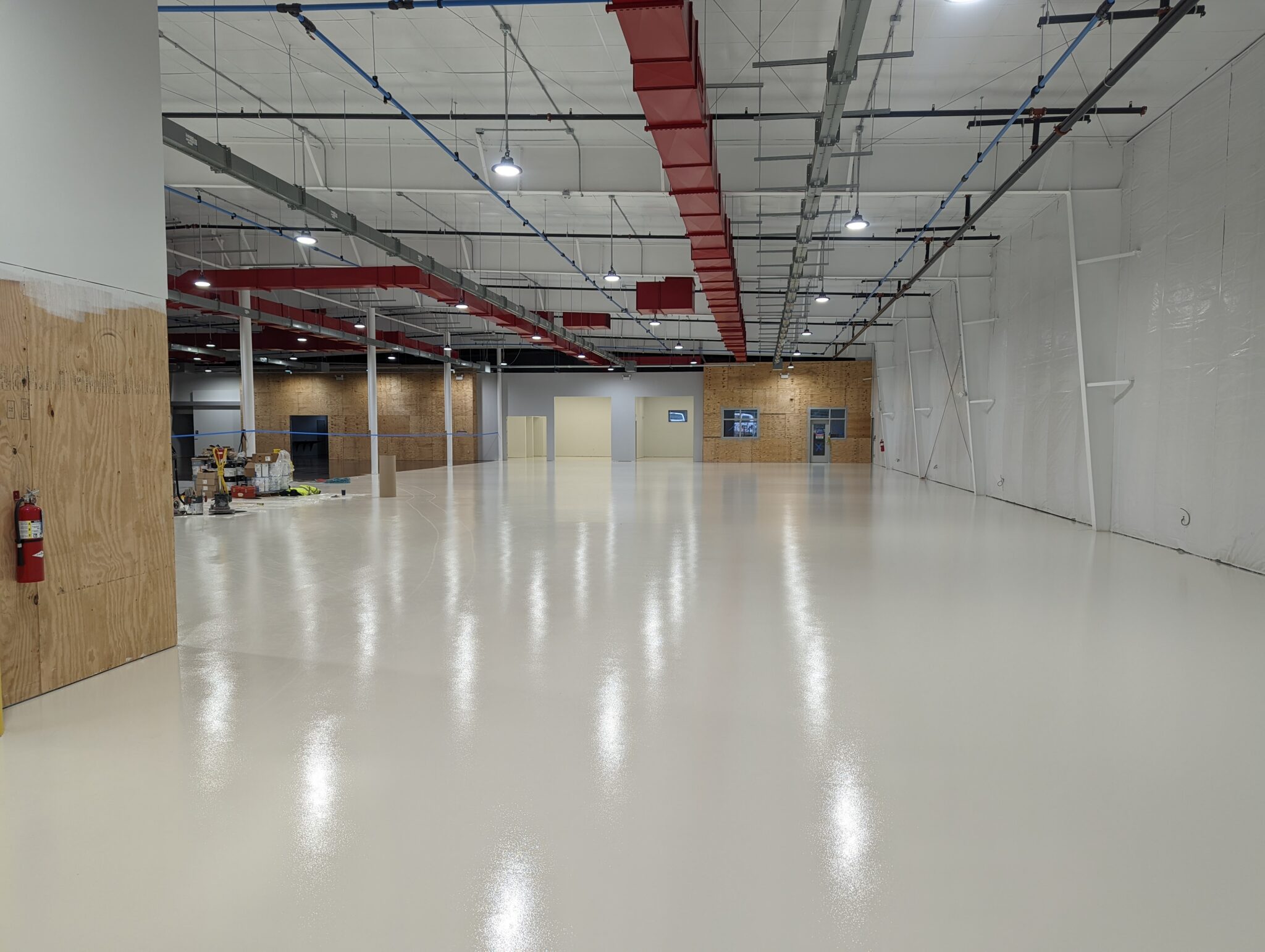 Flex Cell Precision – Lancaster, PA
CONSIDER EMPLOYEE COMFORT FOR YOUR INDUSTRIAL ARCHITECTURAL DESIGN
While planning long-range adaptability for your industrial building, consideration must be given to employee comfort, work setting and safety. In today's ultra-competitive marketplace, skilled, competent and committed team members are a company's most valued assets. Your industrial architecture needs to showcase the organization's desire to recruit and retain top talent by exhibiting a facility that embraces comfort and safety.
Of the highest priority, the design planning and interior configuration should promote indoor air quality, natural daylight, noise mitigation, and temperature control. The performance and placement of mechanical ventilation and the needs for fresh, outdoor air exchange and internal air movement should remain first and foremost. Whether conditioning and dehumidification of the air is required, the indoor air should be exchanged with fresh outdoor air to meet occupational safety and health standards. Adding low velocity, high volume fans to rotate air and aid in convection movements will help occupants feel more comfortable as well.
Countless studies have shown the tremendous benefits of natural daylight for interior workplaces. Through use of clerestory (high wall windows), solar tubes, and skylights, increased natural daylight leads to higher production and reduced artificial lighting energy costs.
Workplaces continue to adapt and embrace the changing workforce. For example, more women are entering skilled trades and production manufacturing positions creating needs for more expansive locker room, restroom and nursing mother suites. Moreover, gender neutral accommodations need to be factored to provide welcoming facilities for all team members.
Angelique Miller, NCIDQ, Senior Interior Designer for TONO Group says, "We are fortune to work with many innovative, forward-thinking enterprises who desire to create facilities that exemplify their business culture. Recent trends include creating private spaces for new mothers to nurse or lactate, as well as gender neutral shower and restroom facilities. We are seeing more awareness when it comes to planning people-centric spaces with material selections, acoustics and lighting."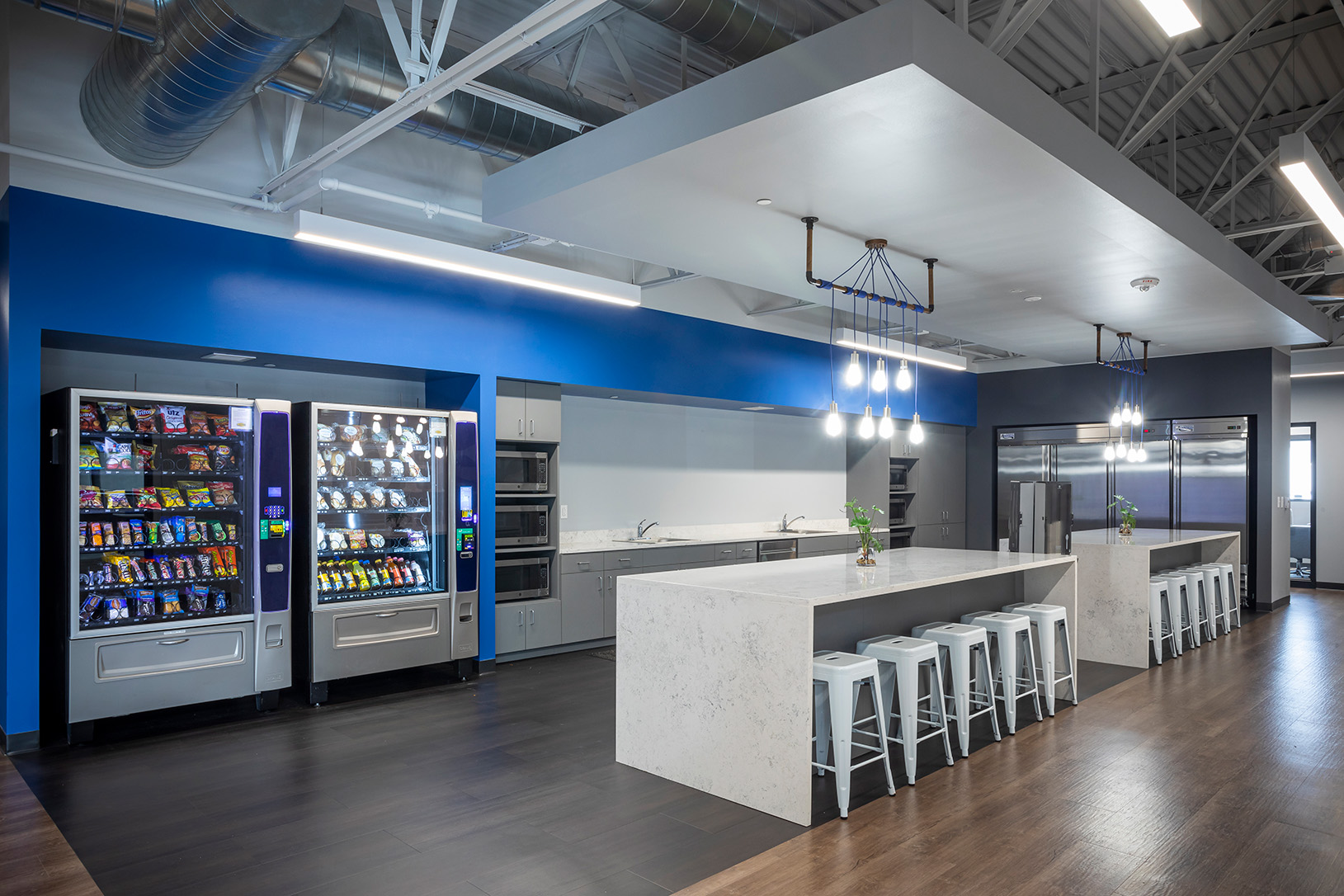 West Shore Home – Crossgate Corporate HQ Breakroom – Mechanicsburg, PA
CONSIDER SUSTAINABILITY FOR YOUR INDUSTRIAL ARCHITECTURAL DESIGN
Perhaps one of the more overused buzzwords of our collective lexicon these days, sustainability, seems counterintuitive when planning industrial architecture. However, a broader definition of the term is needed beyond reducing carbon emissions through long-term energy consumption and fossil fuels.
First and foremost, like any building construction project, environmental impact is most significantly reduced by adapting existing infrastructure and planning in close proximity to existing transportation networks and utility services. Long-range sustainability is gained by building with flexibility and lifespan in mind.
From there, considerations must be given to creating the lowest impact on both initial carbon creation (in the first-time construction), but also in the long-term performance of the facility. Facility maintenance over the life of the facility can exceed first-time construction and critical building systems will shape this impact through careful planning of the facility's envelope, environmental comfort systems, lighting and energy management.
Scott Espenshade, Construction Services Manager for TONO Group, believes early, integrated planning with both designers and builders is key. "Through early collaboration and discussions with the building owners, our integrated team works to understand their long-range expectations and deliver solutions that exceed them. We understand first-time cost and we are always respectful of the construction budget. At the same time, we plan for long-term value and deliver solutions that are sustainable for the business's future."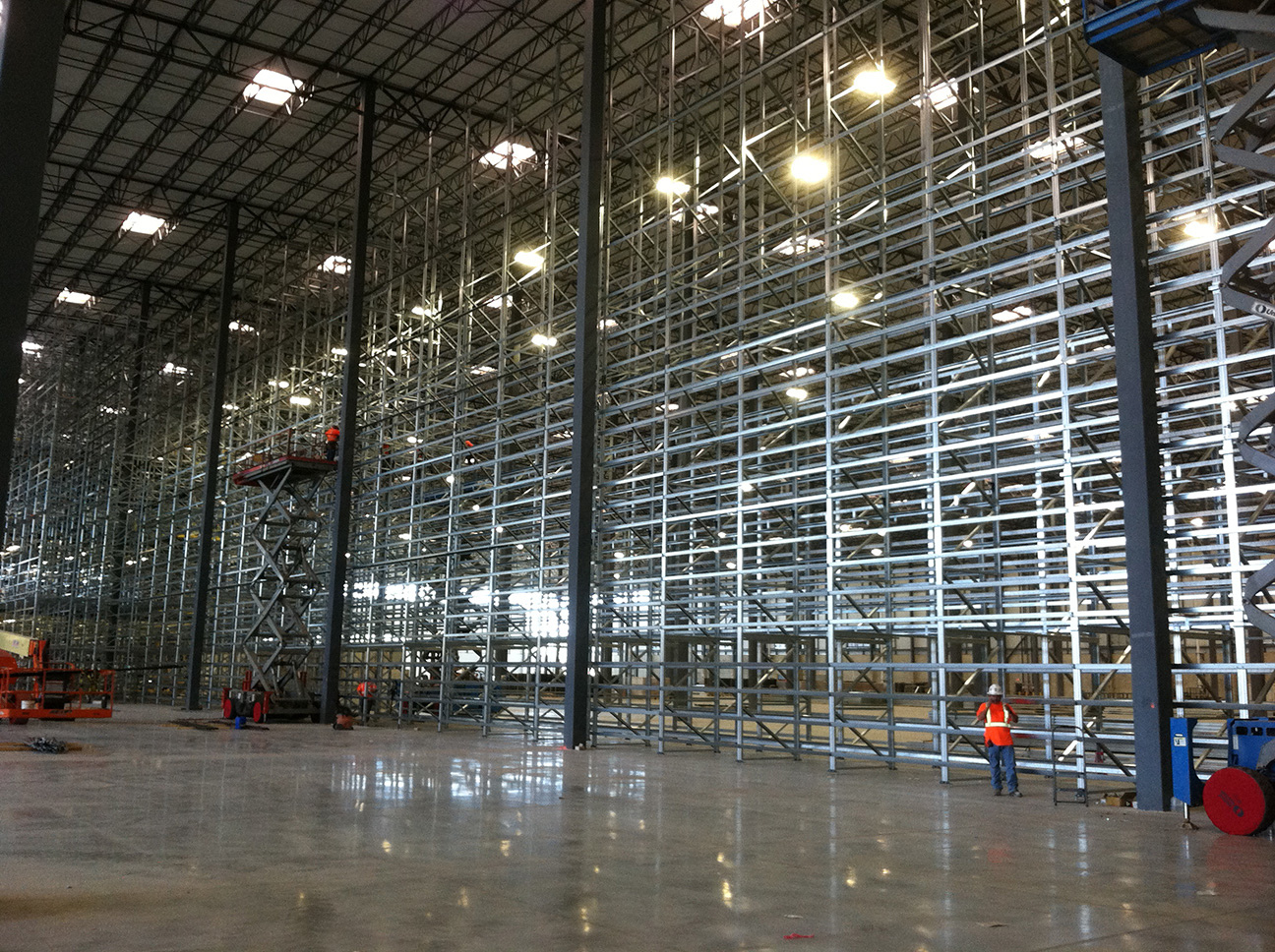 Clark Shoes North America – Interior of  Distribution Facility Racking – Hanover, PA
CONSIDER TONO GROUP FOR YOUR INDUSTRIAL ARCHITECTURAL DESIGN
Looking to develop an industrial facility but aren't sure where to start? At TONO Group, we support and listen to our client's needs while offering valuable industry insights that stretch conventional thinking.
At TONO Group, we create meaningful places through an integrated project delivery approach offering turnkey solutions for businesses and developers. By compressing timelines through the efficiencies of our unique process, we are able to expedite planning and construction schedules adding both value and reassurance.
TONO Group encourages investors or industrial facilities owners looking to build in the near future to start a conversation with TONO Group and to consider these three industrial building design tips.
Scott Espenshade, Construction Services Manager for TONO Group, believes early, integrated planning with both designers and builders is key. "Through early collaboration and discussions with the building owners, our integrated team works to understand their long-range expectations and deliver solutions that exceed them. We understand first-time cost and we are always respectful of the construction budget. At the same time, we plan for long-term value and deliver solutions that are sustainable for the business's future."