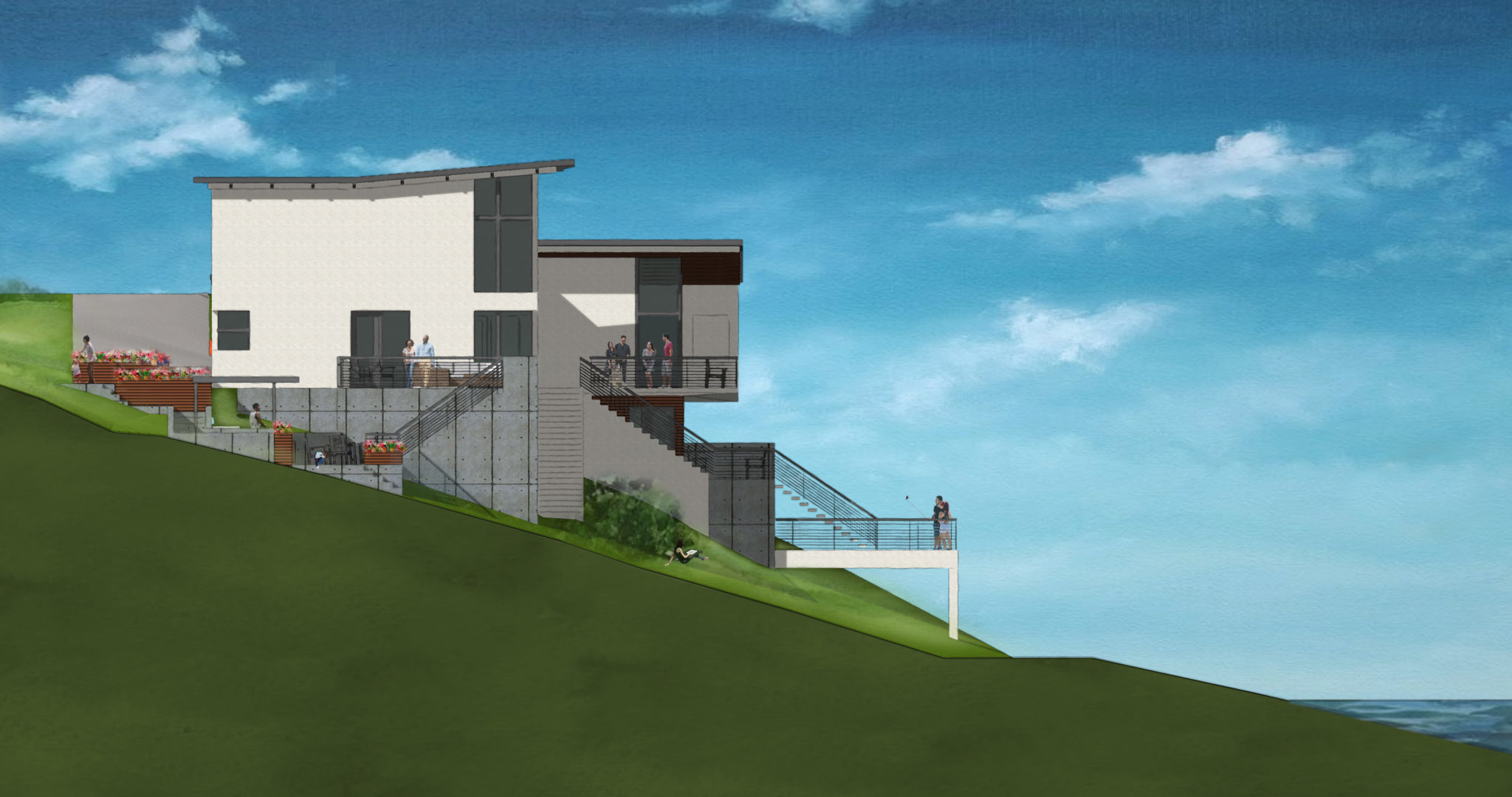 DESIGNING FOR SUSTAINABILITY USING LEED & GREEN GLOBES CERTIFICATION SYSTEMS
In order to maintain environmental health for the long-term, the building industry has adopted a series of green building performance and certification systems. These systems rank and reward design projects that meet green standards and reduce the negative ecological impacts of development on our environment. The overall goals of the system provides a measurable guideline to creating a more sustainable built environment for current and future generations to enjoy.
Why Pursue Green Building Certification?
Although the process of designing and building a "green" building is not for every project, there are a multitude benefits to certification. In addition to preserving the environment and its precious resources, achieving green building certification comes with a variety of economic and human health benefits. These often include:
Operating cost savings
Greater return on investment
Increased occupancy rates
Rent increases
Increased user productivity
Reduced employee absences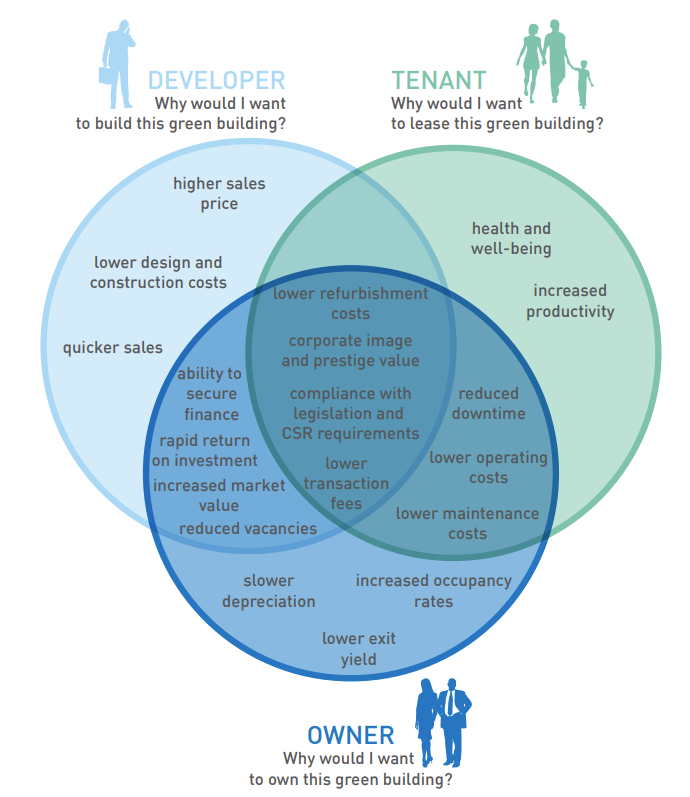 In a study done by the U.S. Green Building Council (USGBC), green buildings were shown to reduce operating costs by 8-9% and increase property values by 7.5%. In addition, they've reportedly increased ROI by 6.6%, occupancy by 3.5%, and rental rates by 3%. For an investor, those numbers start to provide a solid foundation for pursuing this path forward.
One area of importance to note is that a building project can be sustainable and green without an official performance rating and certification. A qualified architect can design an environmentally friendly project by applying sustainable design principles. In many cases, design teams are required by local codes to include some initiatives. However, certification systems like LEED and Green Globes can provide a benchmark of achievement and underscore an owner's commitment to environmental preservation and public health. In 2003, in Dallas, the city council adopted comprehensive green building standard for all new residential and commercial construction which follows the LEED standards closely.
A Comparison of Two of the Most-Used Green Building Rating Systems
The U.S. Green Building Council's LEED (Leadership in Energy and Environmental Design) certification system and the Green Building Initiative's Green Globes certification system each assess a wide range of building characteristics and offer guidance for the design and operation of green buildings. Although LEED is the most widely-used system worldwide (boasting 37 times more certified projects than Green Globes), Green Globes has gained significant traction in North America in the last twenty years.
According to the U.S. Green Building Council's LEED overview, the rating system is available "for virtually all building types," providing "a framework for healthy, highly efficient, and cost-saving green buildings." Green Globes, on the other hand, touts itself as offering "a different approach: one that provides in-depth support for improvements ideally suited to each project" and forges "a partnership that allows experienced green building project teams to shine and reduces the learning curve for those new to green building."
Indeed, while both LEED and Green Globes utilize similar rating systems, LEED is known for a more rigorous rating process. Green Globes is often viewed as a more user-friendly alternative.
Both ratings systems are continually evolving in the way they measure and evaluate green design principles, which can make the certification process feel overwhelming. That's why the decision of which system to utilize should be made with the help of a qualified architecture team.
For novices looking to expand their knowledge of LEED, Green Globes, and other Green Building Rating Systems, the EPA has developed a detailed comparative chart to understand the standards and applications associated with each. In 2014, BuildingGreen Inc. also worked to provide and in-depth comparison of LEED and Green Globes for its presentation, LEED vs. Green Globes: The Definitive Analysis (table below). Both resources provide an excellent starting point for property owners and developers wishing to understand the full value of and key differences between the world's top green building rating systems.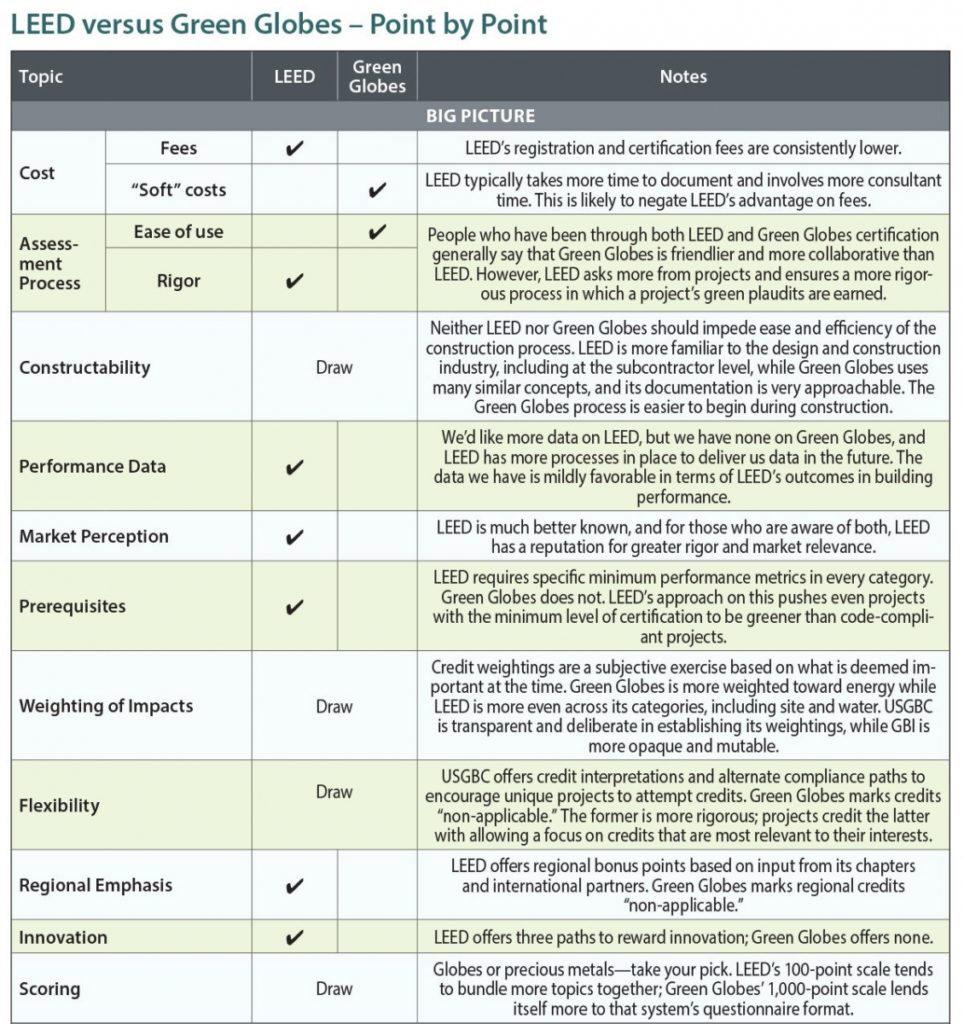 Our design professionals at TONO Group are a resource for our clients when they are ready to implement these design standards. For questions about how to create a more sustainable building and achieve LEED or Green Globes certification, contact us so we can help determine what is best for your project.