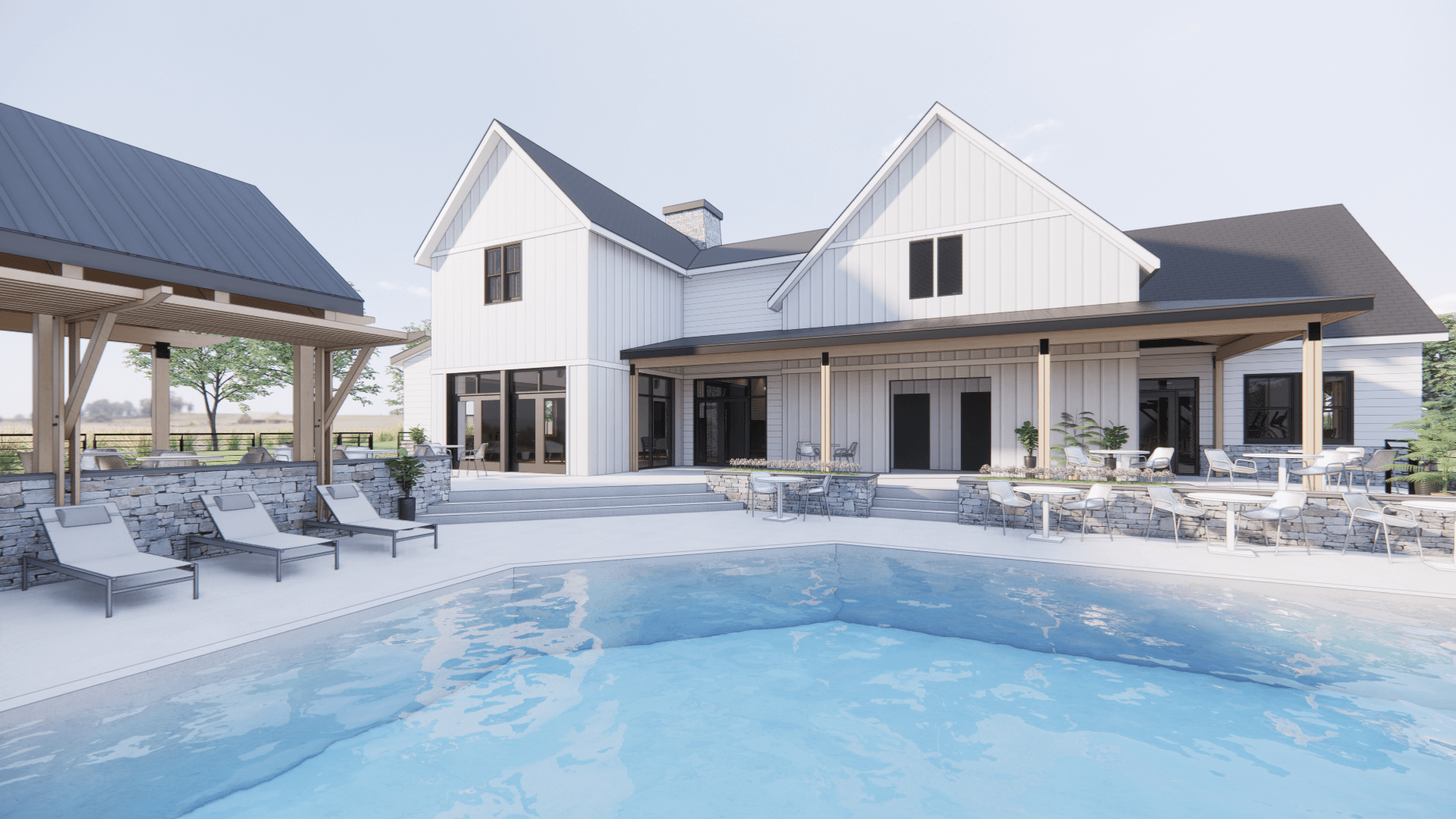 VIRTUAL REALITY MEETS ARCHITECTURAL VISUALIZATION
Virtual reality is becoming the new standard for conceptualizing architectural projects. With the utilization of VR, architects use a computer generated simulation of a three dimensional structure, creating an immersive experience for their clients. Using rendering software, architects are able to 3D model their design and deliver realistic 2D imagery that can be used to make their concept come to life. Whereas, in the past, building models were designed by hand often using balsa wood or other physical media, which took many days to complete.
Project Architect, Drew Hohenwarter says, "VR software creates an efficient and realistic process for architects and clients to view a space in its entirety before a project is built. Virtual reality has been developing rapidly over the last 5 years and has become a crucial tool for TONO Group in creating a seamless process for the client experience." Architects are now able to offer a virtual walk-through of a project that encompasses an architecturally and aesthetically realistic digital environment with textures, lighting, and dimension.
WHY YOU NEED VIRTUAL REALITY (VR) FOR YOUR UPCOMING ARCHITECTURE PROJECT
VR renderings are realistic
Look into the future of your project with VR. An interactive 3D rendering creates the best mode of delivery to view the designed space. This software integration allows interaction with 3D models and also provides a realistic 360 degree view of the space, giving the client an opportunity to experience the functionality of each designed element. For example, the planned square footage between an open closet door and a bedside table.
The realistic experience creates a strong communication tool in the planning process with the client by offering a life-like model of their space, allowing architects to adjust how the space will function before ground is broken.
According to Hohenwarter, "TONO Group provides 3D renderings, showcasing what the final project will look like." This aligns client expectations with deliverables and enables a successful project outcome.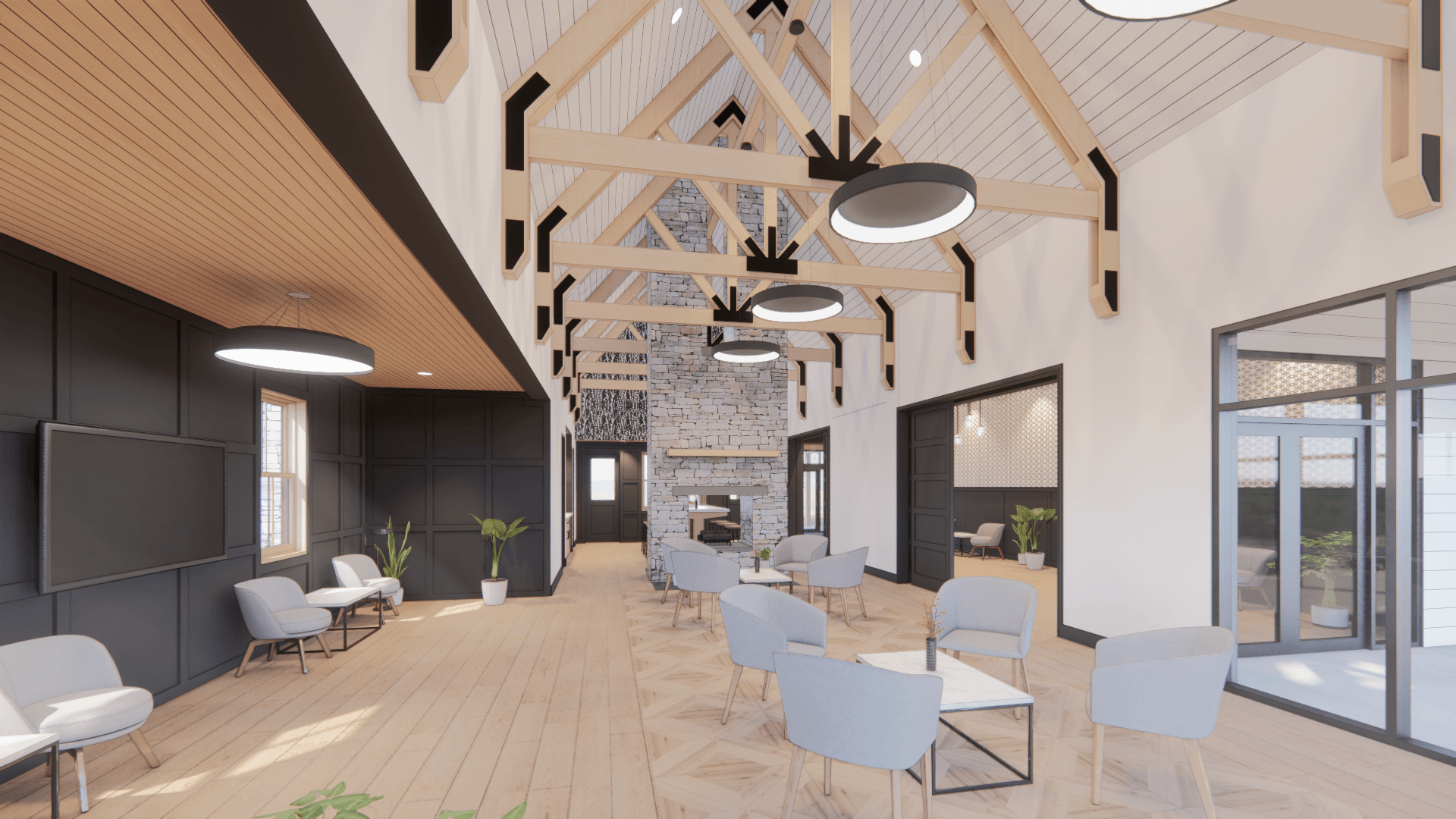 Great Room of Devon Creek Clubhouse
VR renderings are price effective
By using an architectural rendering of the project, it allows technical errors to be resolved before any construction takes place and reduces unnecessary risk .
Visualizing the 3D renderings in real-time allows the project owner to connect emotionally with the space. For example, the placement and configuration of a waiting room within a medical facility can affect the privacy concerns and patient experience. VR allows the project owner to understand the layout from a first person perspective and how a future patient will move through the space.
Experiencing a project through VR can help identify potential conflicts and areas of concern. Whereas, in the past, unforeseen problems may have only been caught after construction was underway, resulting in significant delays. At times, these delays cost the project developer significant additional financial investment and lost time.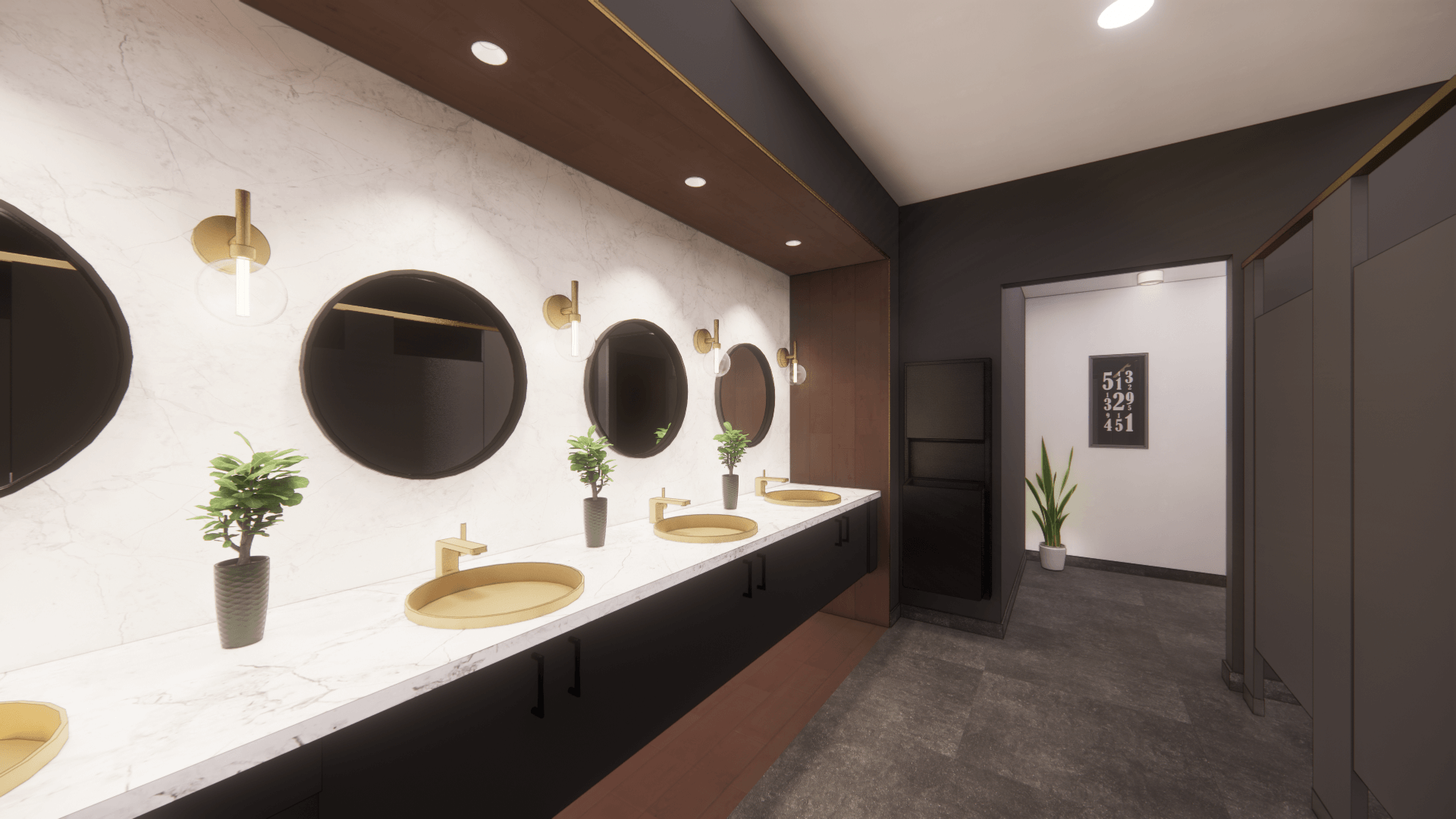 Restroom of Devon Creek Clubhouse
VR renderings bridge communication gaps
With the use of the Integrated project delivery process and a virtual reality architecture model, all elements of the project are integrated into the design, therefore optimizing the process for all parties involved. As the project planning progresses, a more sophisticated digital model is developed encapsulating all spatial and functional components.
It's beneficial to integrate all design elements of each project in the VR process, such as interior design, plumbing, electrical, & HVAC systems, says Project Architect, Matt Otricelli. Coordinating this early in the planning process mitigates any unwanted setbacks. For example, after the architects design the proposed layout, each integrated project delivery partner further refines and contributes to the digital model. At that point, each partner expands their service expertise by incorporating pipe placement, HVAC, furniture, and electrical outlets, for example. VR renderings aid in the coordination of all of those moving parts and avoid conflict during construction.
Otricelli says, "this software has been of most (initial) value for clients where the project is (emotionally) meaningful to them and they desire to experience the space, such as for a business owner or residential home owner." As the software has become more integral to the full spectrum of building planning, engineering and interior design processes, clients have witnessed the deeper levels of value and successful project delivery.
VR-3D renderings are experienced by utilizing either an Oculus headset or Google Cardboard to navigate the shared visuals. Once you have your headset on, you've entered the VR space. Then, you can simply walk from room to room panning up and down to capture the full experience. You can view an example of the Devon Creek Clubhouse in VR below: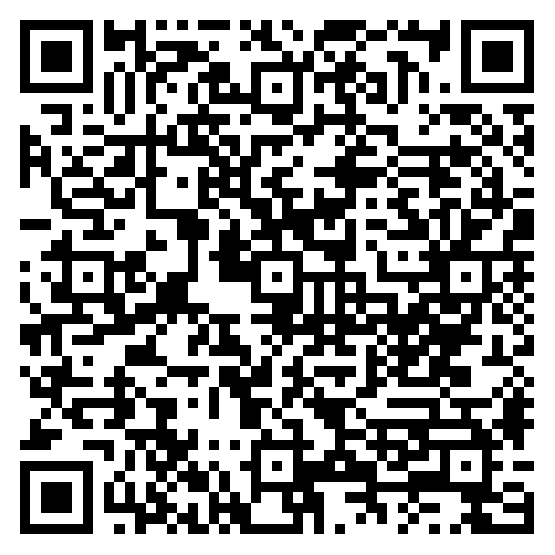 Virtual Reality (VR) of Devon Creek Clubhouse
HOW TONO OFFERS AN INTEGRATED PROJECT DELIVERY PROCESS
When starting a project with TONO Group, you are gaining a partner. As a partner, TONO Group strives to utilize the best industry technology to build meaningful spaces. Whether a client benefits from the use of VR to visualize a project more clearly or we need to utilize LiDAR (Light Detection and Ranging) scans to gain more precise measurements in difficult to reach areas, TONO Group has a reputation of going above and beyond, says Otricelli and Hohenwarter. TONO Group's end goal is to exceed client expectations and build meaningful space for its clients.
TONO Group's approach is to offer a full breadth of services as a trusted firm while leveraging industry relationships throughout the design and construction processes. TONO Group has over 20 years of experience working with clients in the Corporate, Industrial, Education, Healthcare, Residential, Government, Hospitality, Commercial, and Religious verticals and has continued to grow business relationships nationwide.
Have a project in mind? Our team of dedicated design and construction professionals at TONO Group are available to help bring your vision to life.