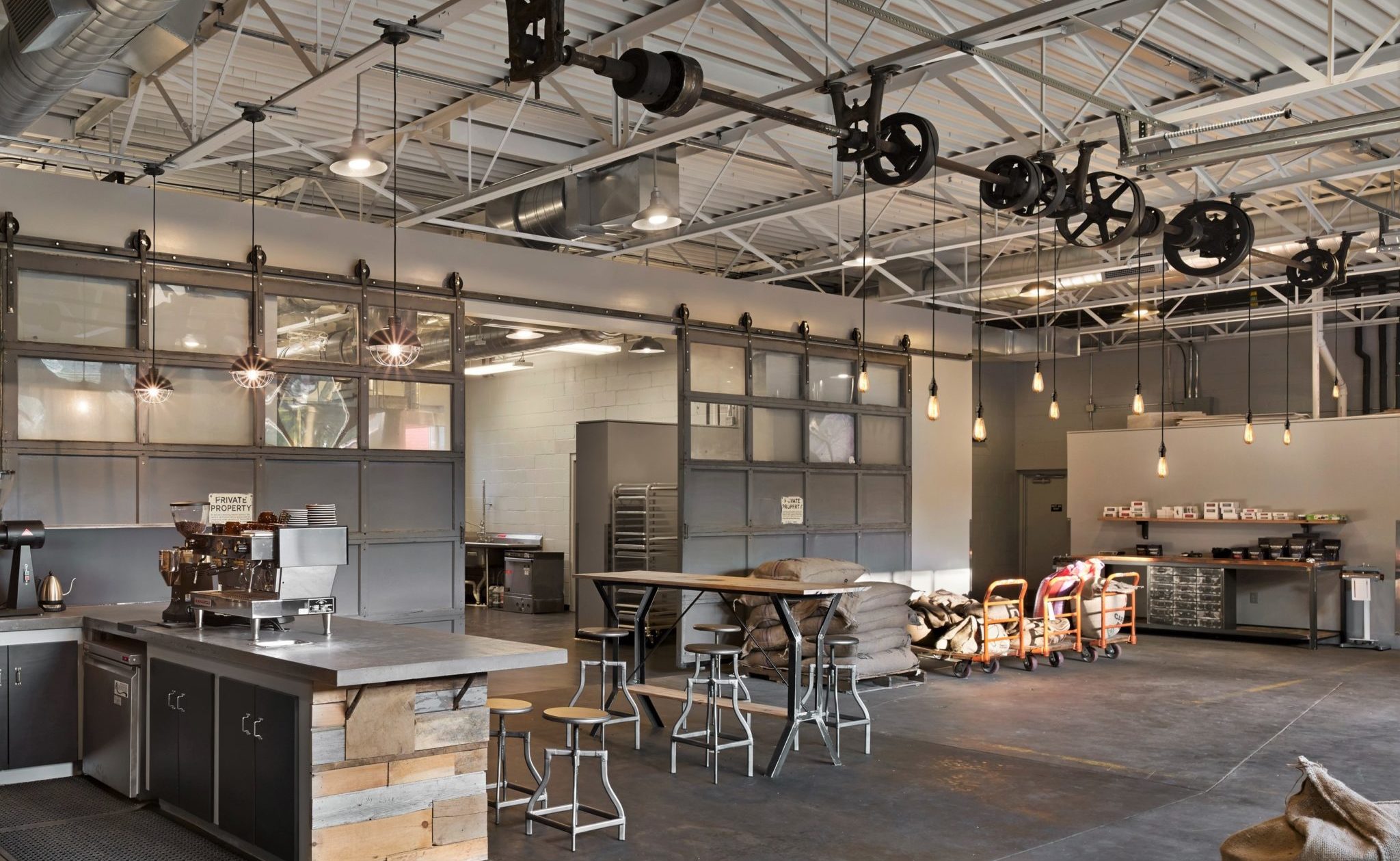 REPURPOSING OLD MATERIALS IN NEW DESIGNS: 3 EXAMPLES OF CREATIVE RE-USE
In the name of sustainability, the building industry is increasingly championing energy efficiency, the recycling of building materials, and the creative re-use of salvaged items.
At TONO Group, we thoroughly enjoy taking old building components and giving them new life in a redesigned space. Not only does doing so reduce waste, it also highlights the history of a location and adds unique character to a new design.
Over the years, many of our design and construction projects have included repurposed elements. The following are a few of our favorite examples.
1. TONO Group's Industrial Doors
2. The Commons Company's Loading Dock Doors and Pully Light Fixture
3. The Lititz Shirt Factory's 100-Year-Old Elevator
TONO Group's Industrial Doors
Previously a grocery store and dry goods warehouse called Lestz & Co., TONO Group's office space in Downtown Lancaster held a few irreplaceable pieces. The heavy metal door at the building's lower level entrance, the the 8-inch-thick cold storage room door, and the boiler room's fire-rated door were all re-used in our office interior.
Re-worked and hung by 3D Custom Cabinetry, each door beautifully reflects our building's past, while closing off our main mechanical space and other key storage rooms.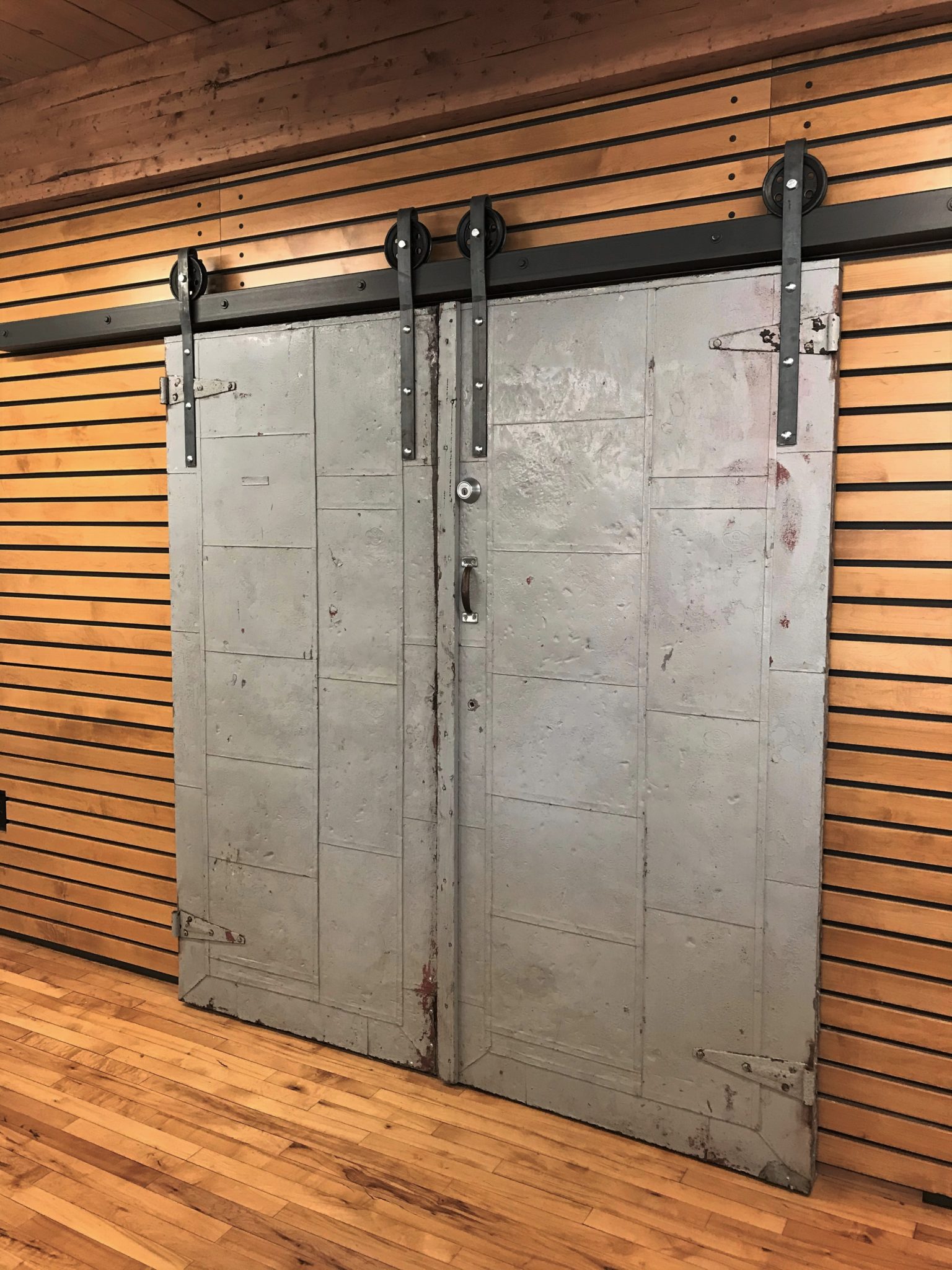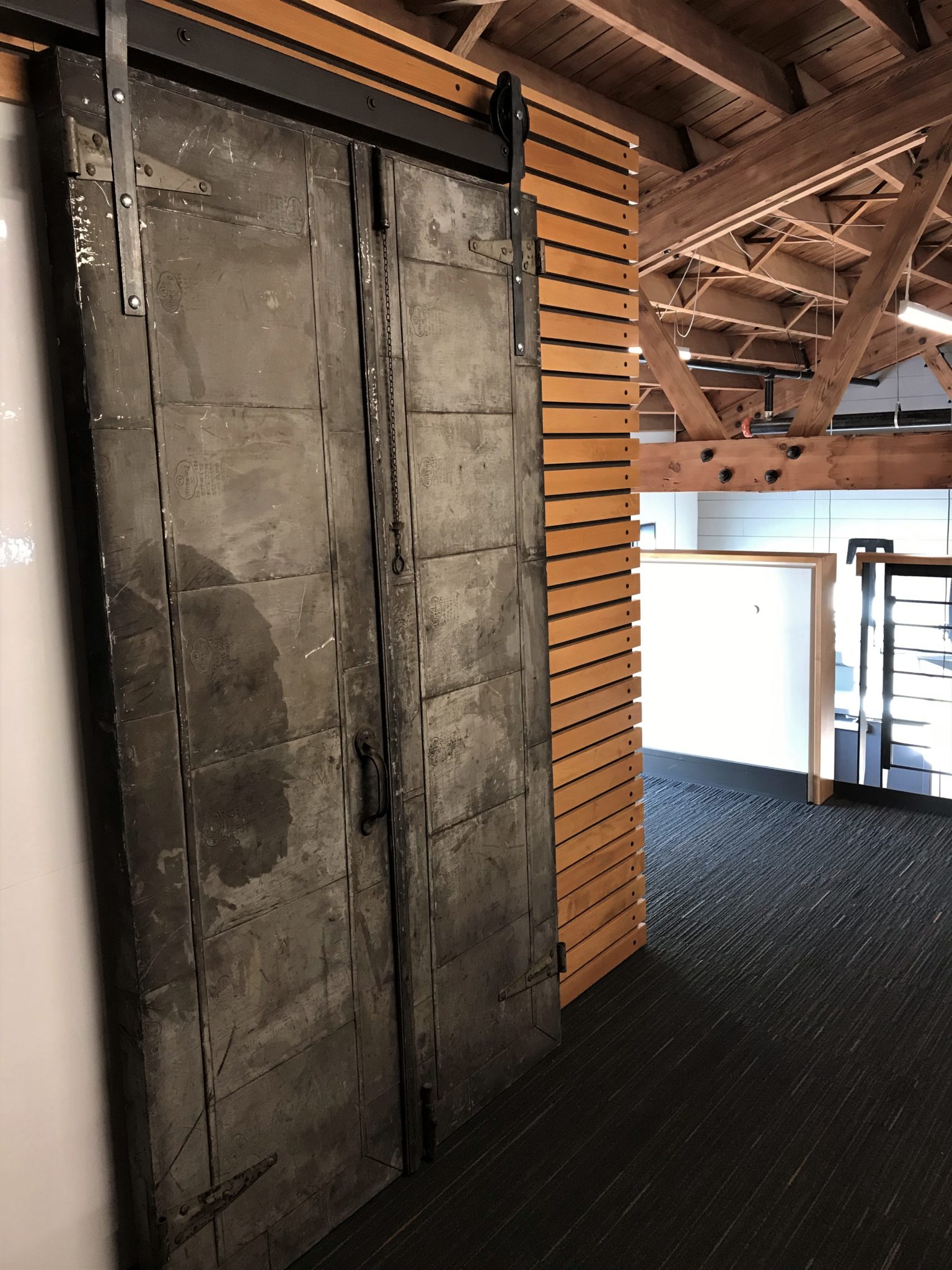 The boiler room door now leads to our Interiors loft closet. Once two separate pieces, it was skillfully merged into one, while the decades-old measurement markings on its sides were carefully preserved. The massive door to our mechanical room—which led to a large walk-in refrigerator in its past life—still has an old advertisement for California carrots stuck to its inside face.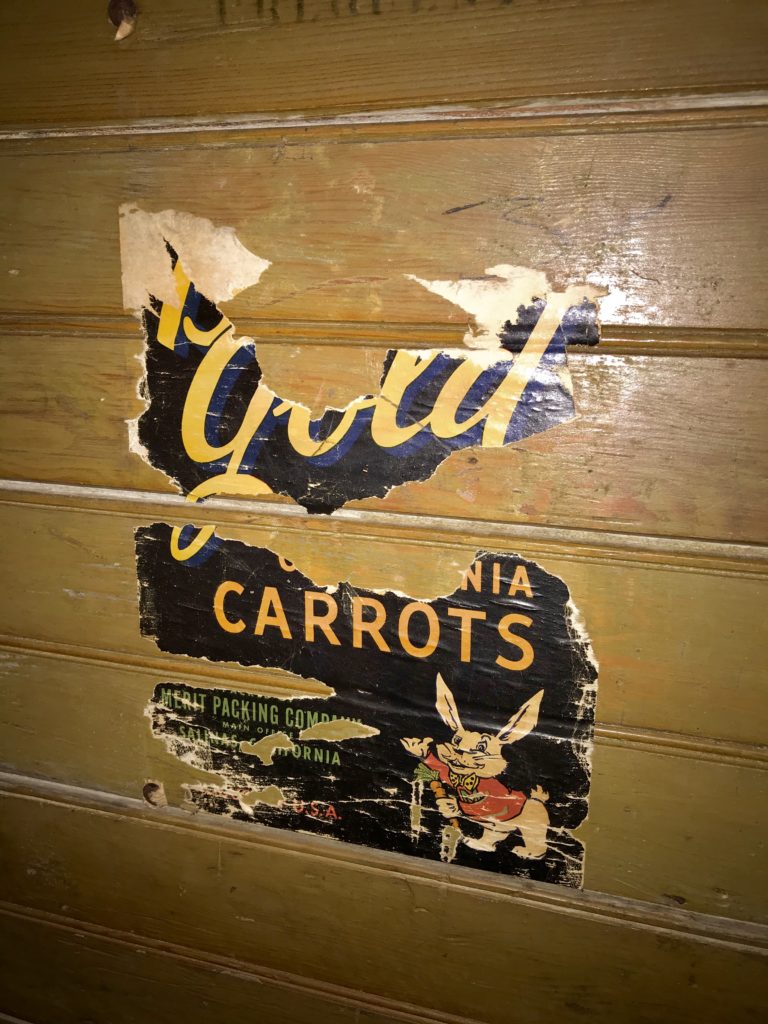 All three doors enhance the office's modern and industrial style, while serving as a reminder of the massive transformation the building underwent to house our office operations.
The Commons Company's Loading Dock Doors and Pully Light Fixture
Prior to completing our offices at 436 West James Street, TONO Architects and PROTO Construction revived another blighted building in Lancaster City.
We assisted the Commons Company in transforming a small hammer-manufacturing facility on East Marion Street into their primary operations location. In the years since its completion, the space's kitchen and roastery have supported Commons Company's local ventures, including Merrymaker, Passenger Coffee, and Prince Street Café.
During the extensive renovation, we salvaged a few recyclable pieces, including the original loading dock doors and an interior pully mechanism.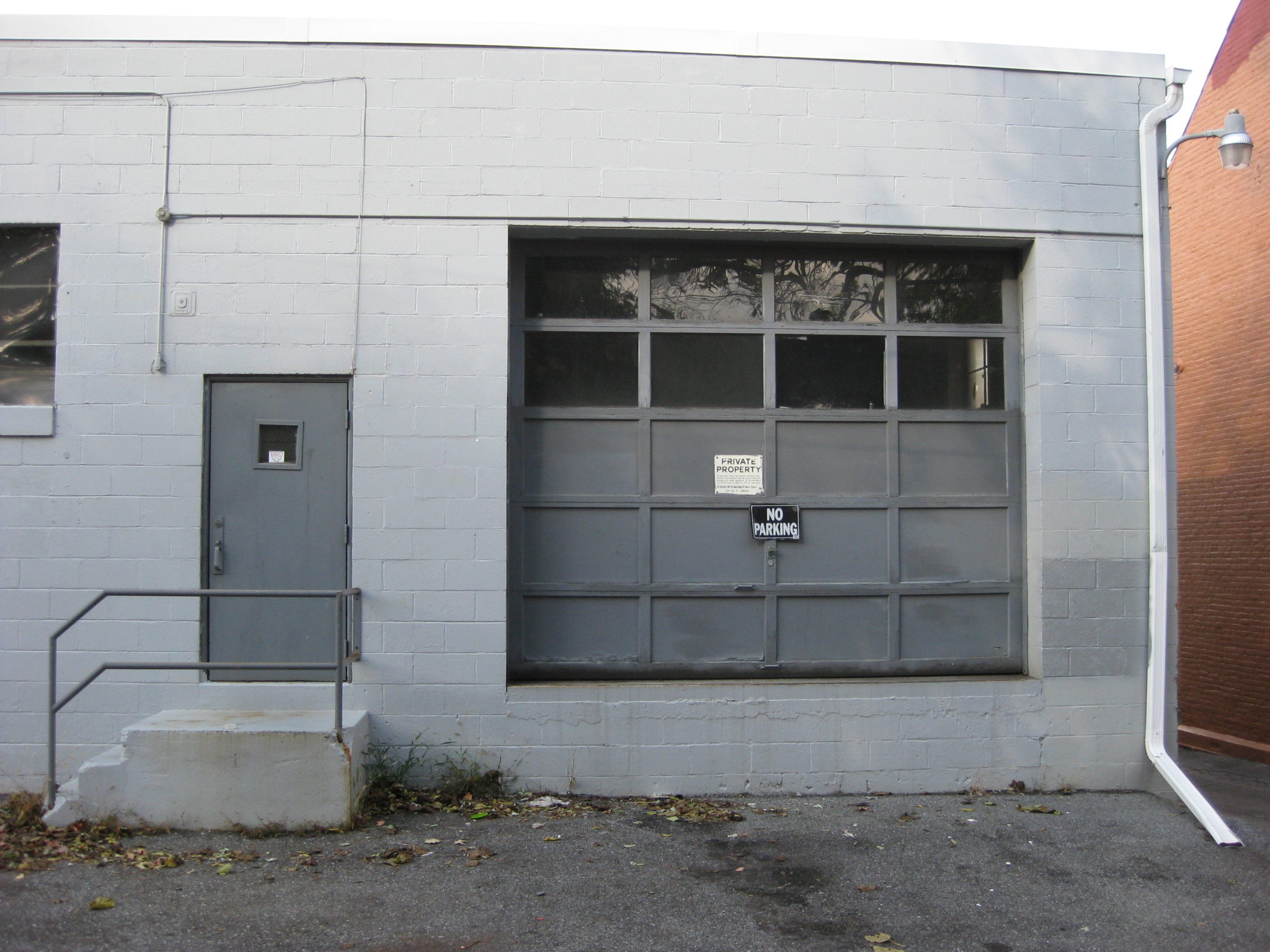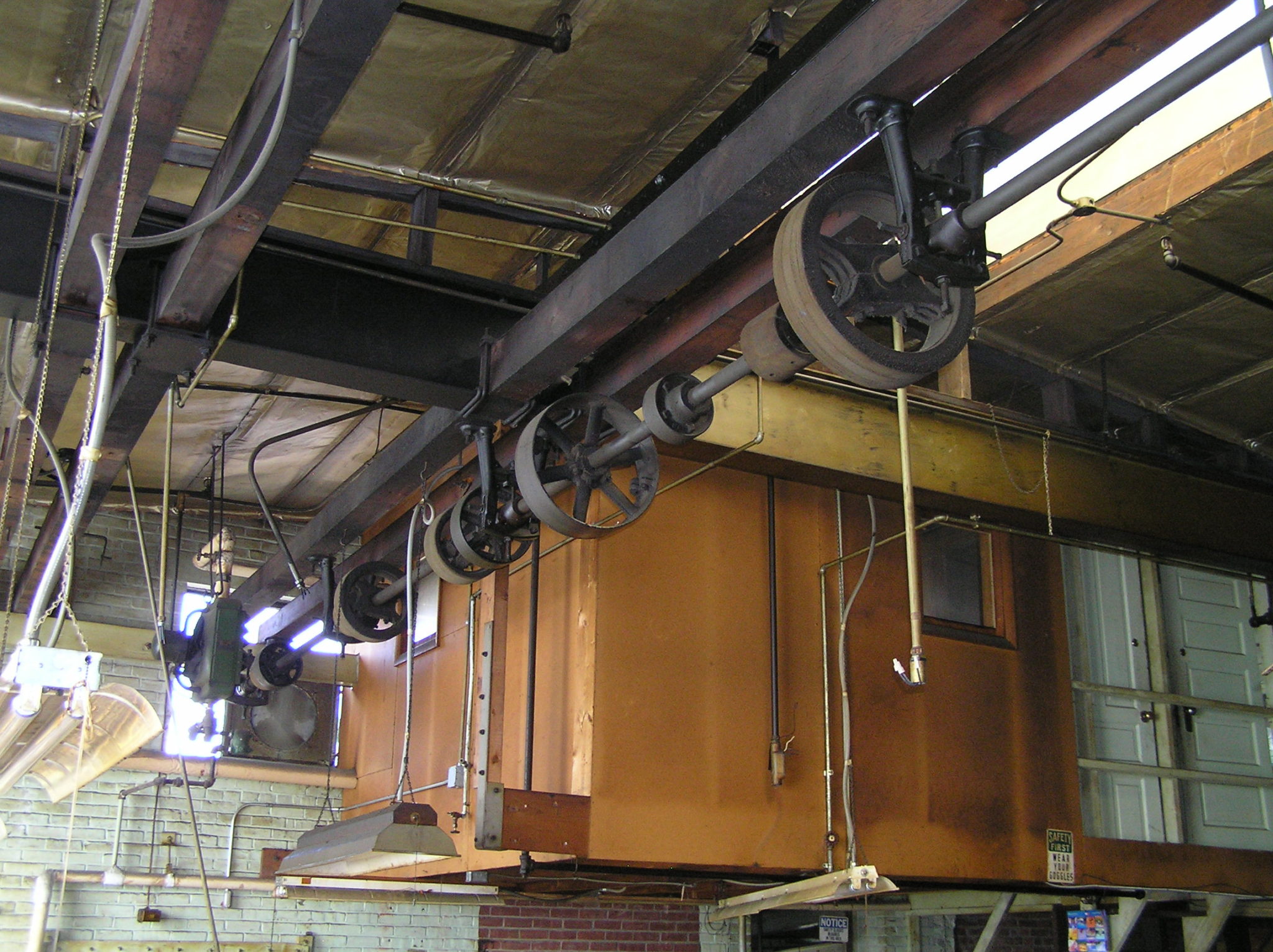 The doors were moved inside the building. Hung on a long track, they now slide to enclose the main kitchen space when needed. Old "PRIVATE PROPERTY" signage is still stuck to both, calling to mind their original use along East Marion Street.
Historically, the recovered pully system was part of the manufacturer's conveyor belt mechanism. During the renovation, it was re-mounted in a central location and finished with corded Edison bulbs, which were carefully draped over top create a one-of-a-kind light fixture.
The project's finished interior, featuring the loading docks on their track (right) and pully light fixture (middle).
The end result is an interior space that is equal parts contemporary and industrial, meeting client expectations in both functionality and aesthetics.
The Lititz Shirt Factory's 100-Year-Old Elevator
Construction on the Lititz Shirt Factory at 5 Juniper Lane is currently underway. Property owner Jim Hoffer has big plans for the new event space and Collusion Tapworks bar.
Throughout the building's hundred-year history, it has served as a tobacco warehouse, consignment shop, antique store, furniture outlet, and—as the name suggests—a shirt factory.
In a July 2019 article, the Lititz Record Express noted that an early twentieth century newspaper boasted about the building's "improved elevator running from cellar to attic"; this antiquated elevator was recovered from the Shirt Factory during demolition. Manufactured by Philadelphia's Morse Elevator Works, it would have moved large amounts of manufactured product between the factory's levels.