Q&A WITH OUR INTERIOR DESIGNER
We spend most of our time indoors. The modern employee, sitting at a desk and working on his or her computer for hours on end, may spend as little as 15 minutes outdoors during the day. That's why it's so important that the interior spaces we inhabit are useful, attractive, and serve our physical and emotional needs.
Interiors professionals can provide guidance, ensuring indoor spaces meet all of the aforementioned criteria. But who should you hire for your specific interiors project? Is there a difference between an interior designer and an interior decorator? What exactly does each do? What can you expect as a homeowner or business owner when working with a professional?
We sat down with our Director of Interiors, Angelique Miller, NCIDQ, to clarify her role at TONO Group, as well as answer some common questions about the interior design industry.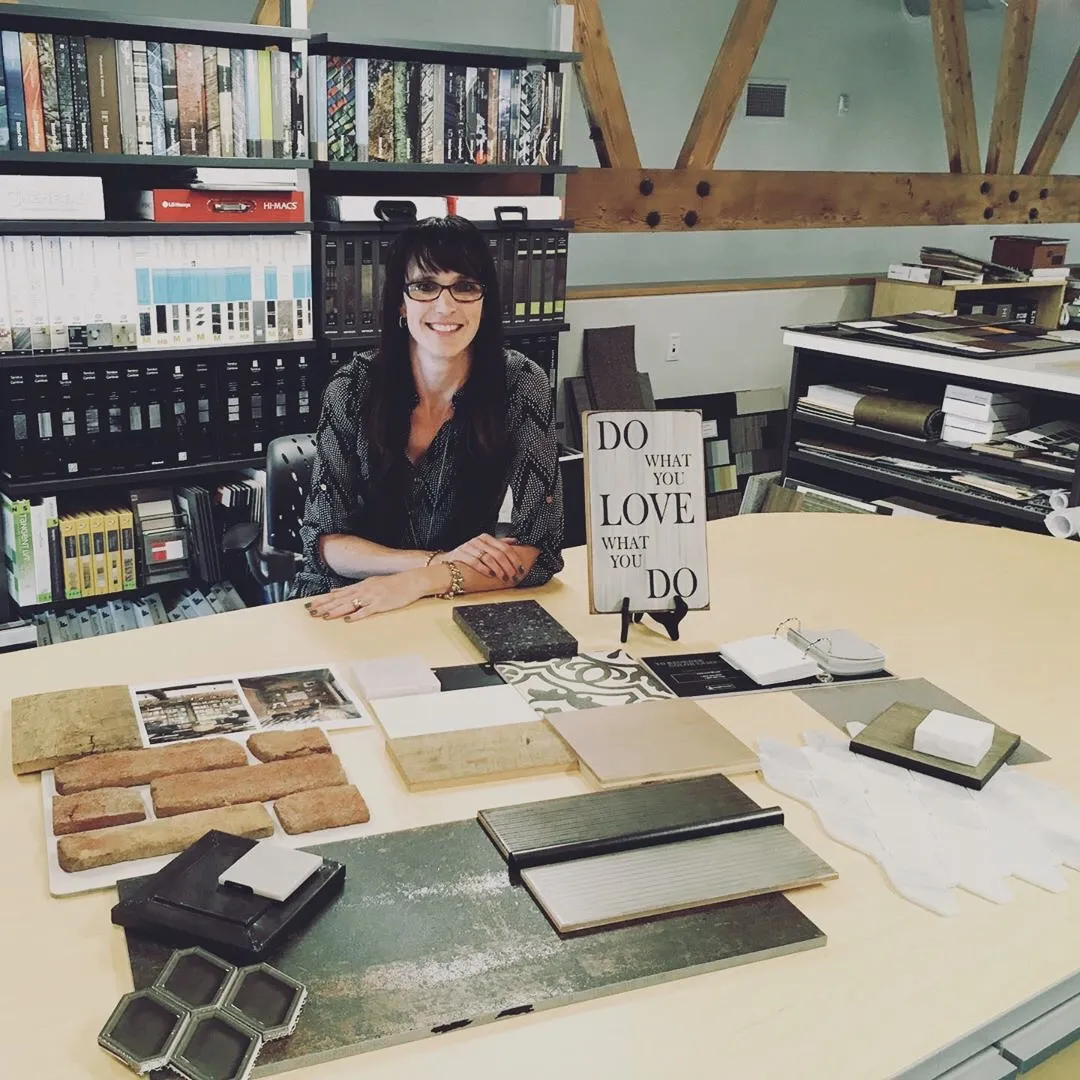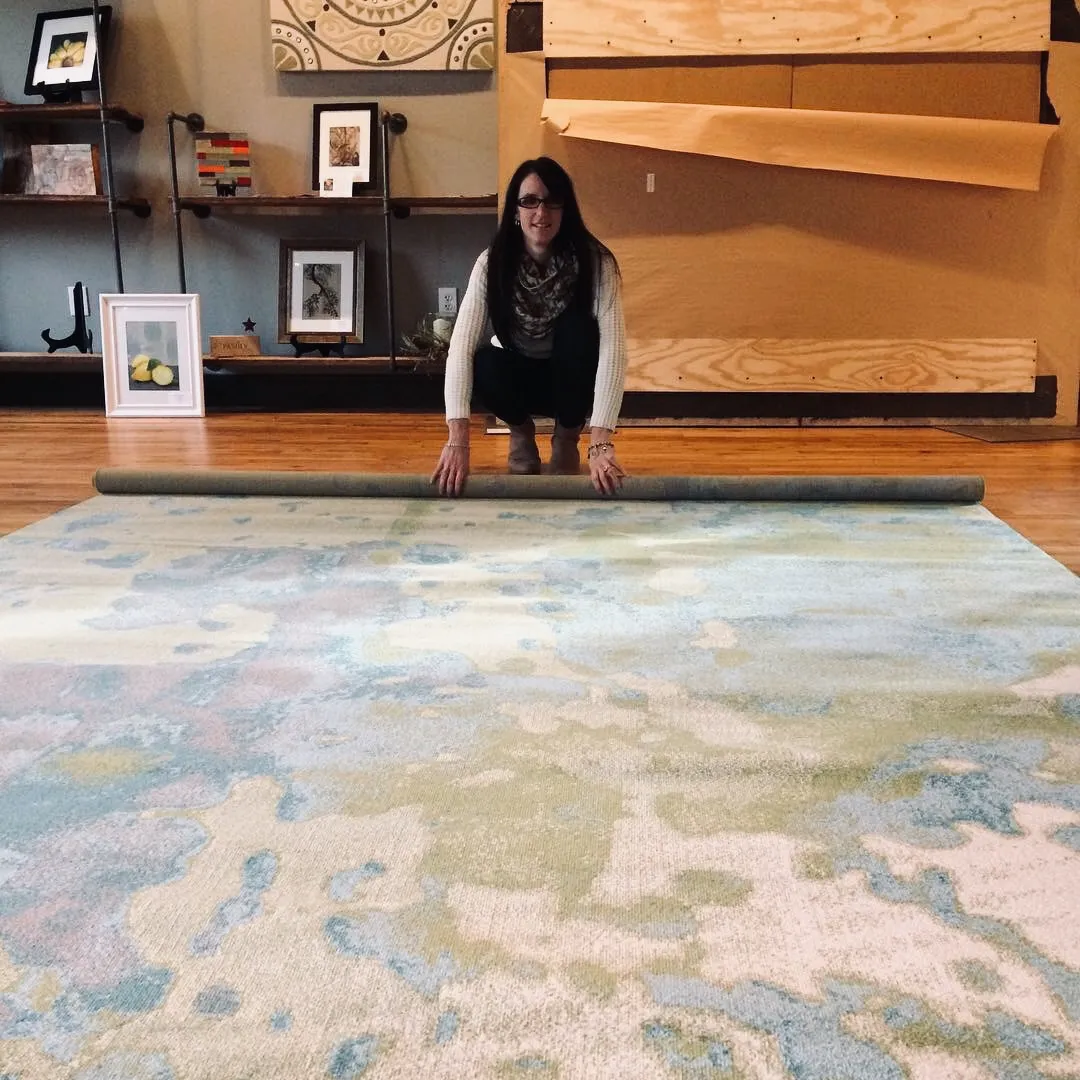 Angelique in the interiors lofts at TONO Group and unfurling a large rug chosen for a client's master bedroom remodel.
Q: What's your role at TONO Group?
A: I am the Director of Interiors and design and oversee all interior projects from start to end.
Q: Fundamentally, what does an interior designer do? What are your everyday responsibilities when working on a project?
A: An interior designer is responsible for all the things that occur once you step through the front door of a building, essentially! An interior designer makes the interior space functional, safe, and aesthetically pleasing by developing space requirements and selecting all elements essential to the building's inside spaces. This would include finishes, light fixtures, plumbing fixtures, decorative fixtures, as well as furniture and décor.
Q: What are the differences between an interior designer and an interior decorator?
A: Technically you do not need a degree to be a decorator. Interior designers, on the other hand, earn a four-year Bachelor's degree. Decoration is defined as "the furnishing or adorning of a space with beautiful things". Interior design is defined as "the art and science of understanding people's behavior to create functional spaces within a building". To put it quite simply, an interior designer can decorate but an interior decorator may not design! Designers must adhere to code and regulatory requirements for spaces and encourage the principles of environmental sustainability, while decorators don't need to adhere to strict regulations.

Q: What do people commonly misunderstand about your line of work?
A: Interior designers don't just make things look pretty. Although they're often responsible for adding finishing touches like plants, furniture, and artwork—the "pretty" things—their role encompasses much more than that. They design the feel and function of a space from start to finish.
Q: How do you work with a client to define their needs? What questions do you ask to determine the final look and feel of a space?
A: Being a designer is a lot like being a sponge; you must be able to listen to the client's needs, wants, and wishes. You need to clearly understand their vision for how the space will come across, along with noting things they like, don't like, etc. I ask them to tell me what colors they like, and to tell me if there are colors they don't like. It is my job as a designer to listen carefully, define their vision, and physically create that.
Q: Where do you find everyday inspiration?
A: Everywhere! I find inspiration in color, fabric, textures, nature, sometimes even a specific piece of furniture or artwork.
Portions of the decor package curated and installed by Interiors by DECO for E Kahn Development
Angelique works as both a designer and decorator for TONO Group. In close collaboration with our team of architects and builders, she designs interior spaces and adds the finishing touches through TONO Group's own artwork, furniture, and décor procurement company, Interiors by DECO.
Have questions about an interiors project? Want to learn more about DECO? Contact us today!