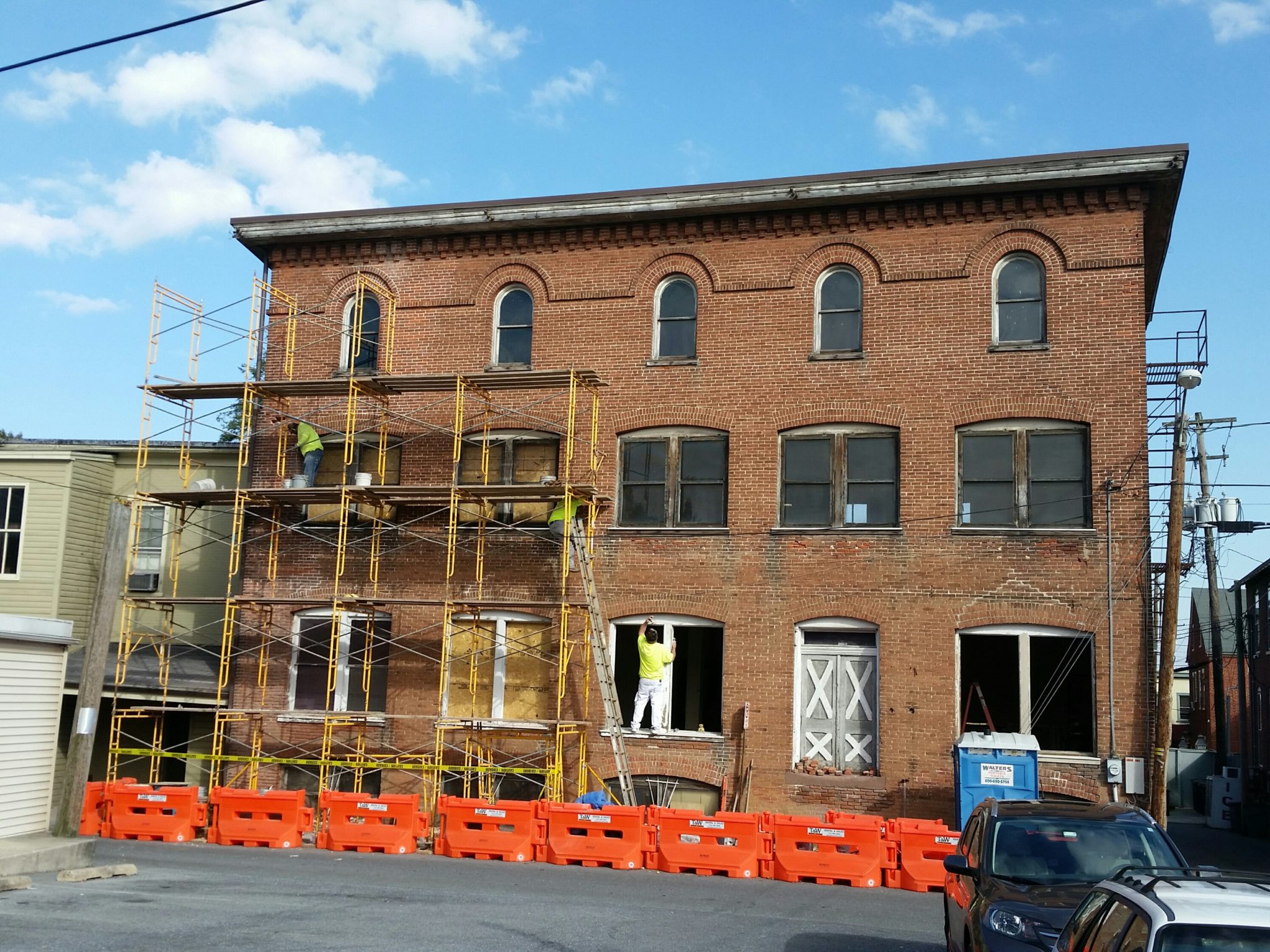 LESSONS LEARNED IN COMMERCIAL DEVELOPMENT: THE LITITZ SHIRT FACTORY
Working for over 20 years as an investigative reporter for Eyewitness News in New York City, Jim Hoffer's undercover reporting career has exposed corruption and led to concrete public policy changes. Having been on the scene during 9/11, Hurricane Sandy, and the crash of American Flight 587, he's an Emmy-winning journalist and no stranger to on-the-job challenges. Commercial real estate development, however, is uncharted territory for Jim, and it's providing a unique set of obstacles.
To give back to his hometown of Lititz, PA, Hoffer purchased a century-old brick warehouse with plans to turn it into The Lititz Shirt Factory, where members of the community can gather to enjoy live entertainment, craft beer, and local art. He enlisted the help of TONO Group to design, construct, and develop the highly anticipated project.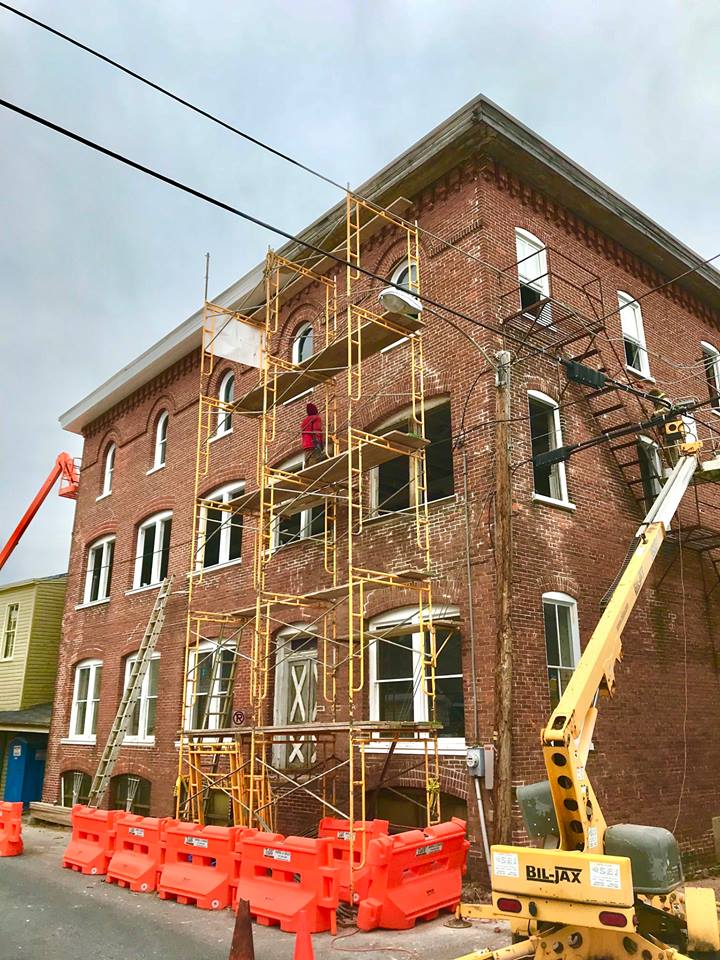 Lititz Shirt Factory Exterior Progress, 2018.
Read on for Jim's overview of The Lititz Shirt Factory project, and learn more about the process he's gone through to set it in motion. In following his journey as a novice developer, we can glean some insight into what it takes to make a commercial development project successful from the start.
Celebrating Community
Q: Could you provide some background about why you decided to buy and develop property in Lititz? What were your main motivations?
Jim: I left Lititz 30 years ago to pursue my career as a TV journalist, but I have always maintained ties with my hometown. Now as my reporting career is winding down, I want to return to Lititz to give back to a community that has given me so much as a child. As the saying goes, "I want to plant some trees even though I may not be around to enjoy the shade."
Q: Why did you end up choosing the property at 5 Juniper Lane?
Jim: I have always loved running or biking around the streets of Lititz admiring the charming homes, attractive storefronts, and old industrial buildings. One day while running down Juniper Lane, I stopped dead in my tracks as I came by this old dilapidated brick warehouse. It truly was like an epiphany as thoughts raced through my head, "who owns this building," "this could be beautifully restored," "what a challenge to turn this into a place that could bring people together!" From there, I relied on my skills as a reporter and began researching who owned it and reached out to him to lay the groundwork for buying it.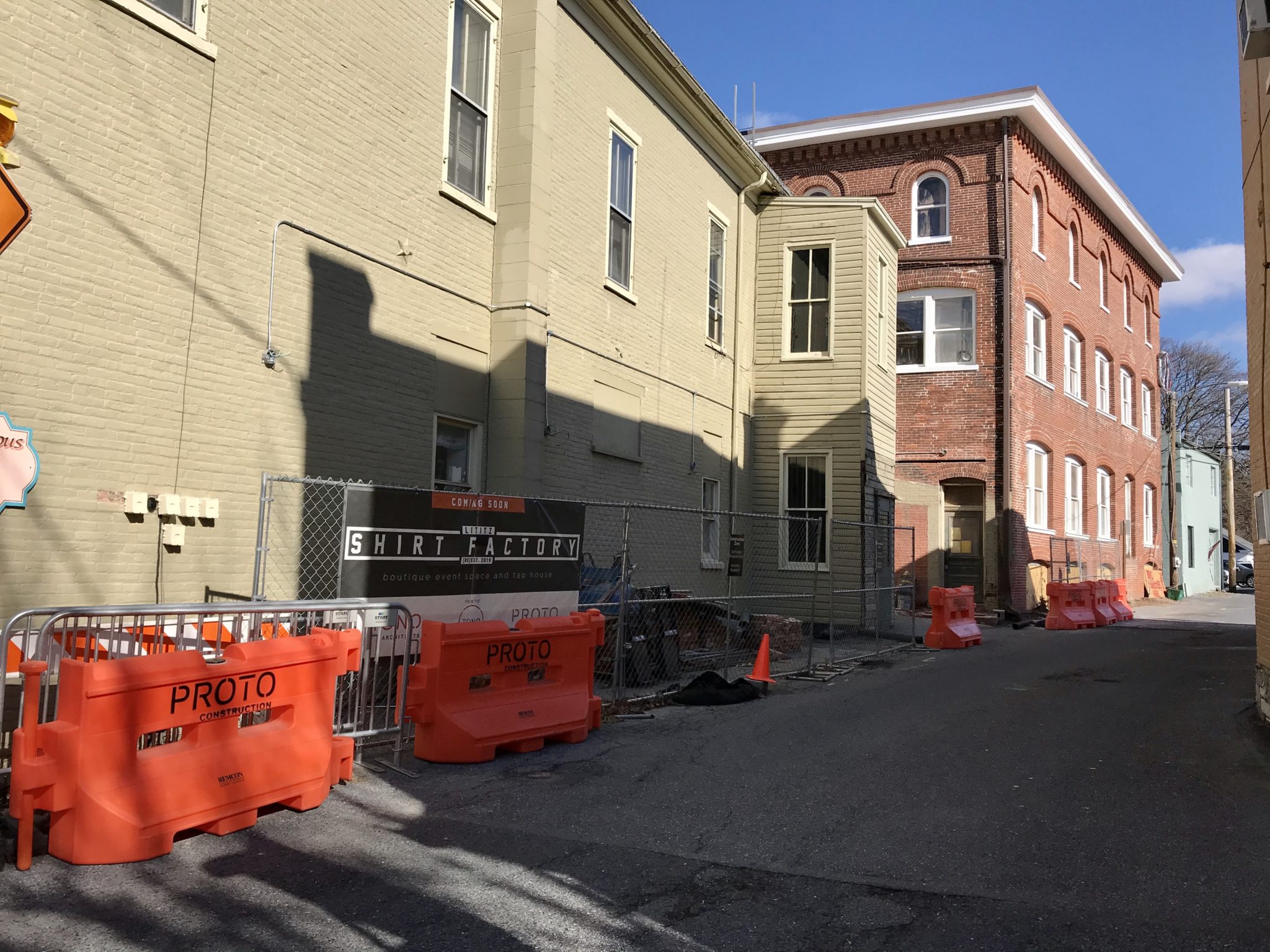 A view of Juniper Lane taken from South Broad Street, 2020.
Flexible Space For All
Q: What does your vision for the final space look like? What will it include and what value will it bring to the community?
Jim: The vision which I've had since the day I ran by the warehouse is to make it a place that brings the community together. I want the Shirt Factory to be a meeting place for people of all ages and interests. My hope is that artists, musicians, runners, yoga practitioners, bikers, foodies, beer lovers, educators, music enthusiasts, techies, politicians, town leaders, (the list is endless) will gather here. Specifically, there will be a beer tap room on the first floor serving Pennsylvania craft beers and distilled drinks. The second and third floors will be combined to host "live" performances including musical groups, comedians, speakers, theater, etc. When not in use as a performance hall, this space will be used to showcase Pennsylvania artists and photographers.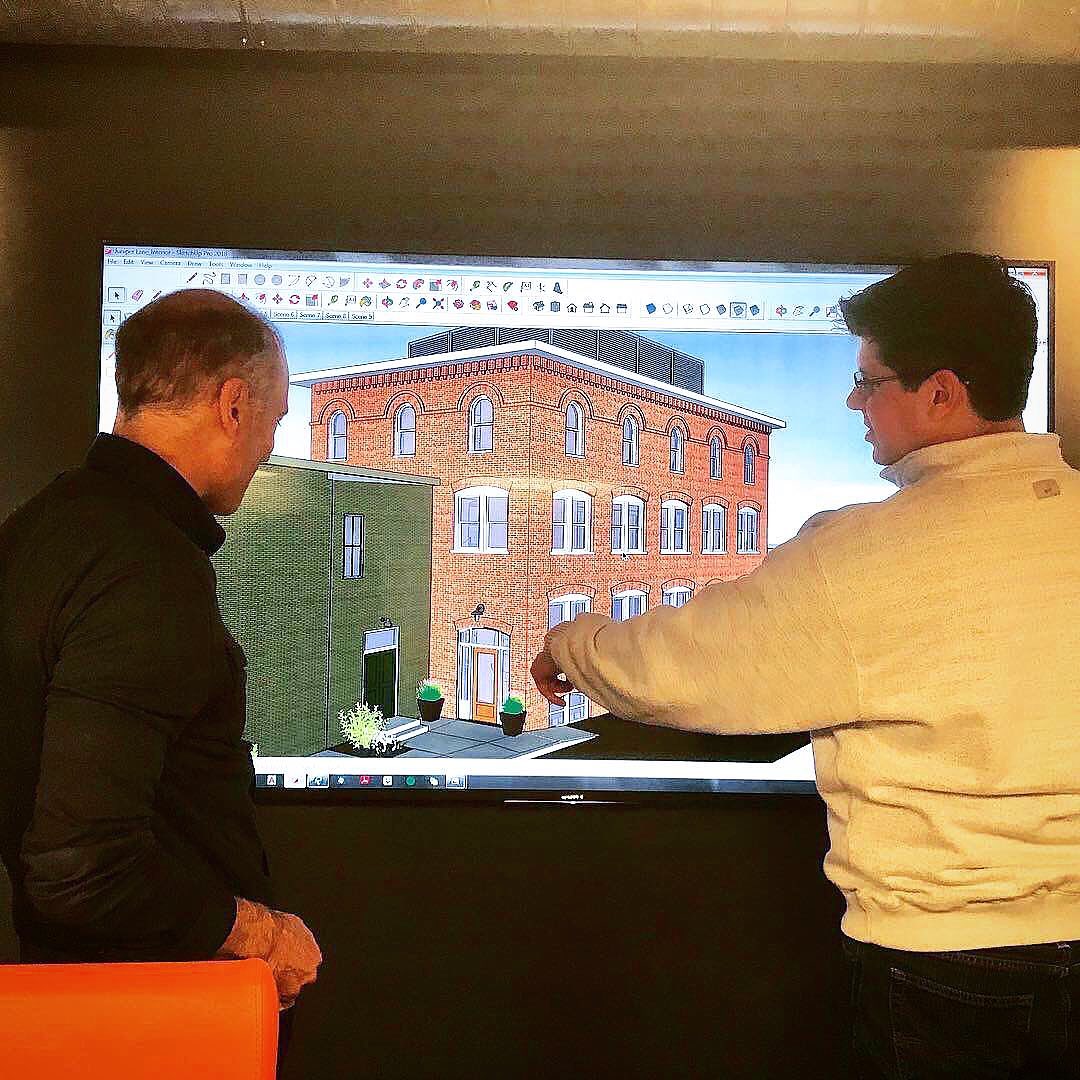 Jim Hoffer discussing final design with Director of Architecture for TONO Group, Kyle Solyak, AIA LEED AP
Patience and Persistence
Q: What aspects of developing property have you been surprised by so far? In hindsight, what would you have done differently before starting out?
The biggest surprise is how long it takes to move things forward. As a reporter, I am used to working under tight deadlines. You can't go to your managing editor and say, "sorry, that report for tonight's 6 o'clock newscast won't be ready." That's called "missing page," which will cut your journalism career short if it happens too often. The Shirt Factory renovation has taught me to have patience, to understand that there are so many interdependent parts that don't bend to deadline pressures. There are zoning regulations, historical reviews, parking requirements, traffic design, fire codes, etc. that need approval often before any work can begin. These are often played out on a timeline that the owner and builder have little control over. Additionally, in my case, there's the time-consuming task of negotiating all the details needed to reach an agreement with the main tenant. What I have learned is that there are so many issues beyond just square footage cost that must be worked out before an agreement with the tenant is signed. The type of tenant determines much of what the interior design will be; therefore without an agreement, the project cannot move forward. Hammering out a tenant-landlord agreement can't be rushed, so I've learned.
Collaboration with Industry Professionals
Q: How has TONO Group's family of companies been helpful in bringing your project to life and troubleshooting any unforeseen hiccups?
Having never purchased and developed a commercial property before, I knew the most important decision I would make is whom I would pick to design and refurbish the century-old warehouse. I did a lot of research on several well-known Lancaster County developers, and I am confident that my decision to go with TONO Group will be key to making my vision for the Lititz Shirt Factory a success. I feel very comfortable with the people at TONO and have been impressed with the seamless collaboration among the architect, construction, and real estate professionals involved in this project. I feel that I am in good hands with TONO and look forward to working with them in the next phase of the Shirt Factory development.