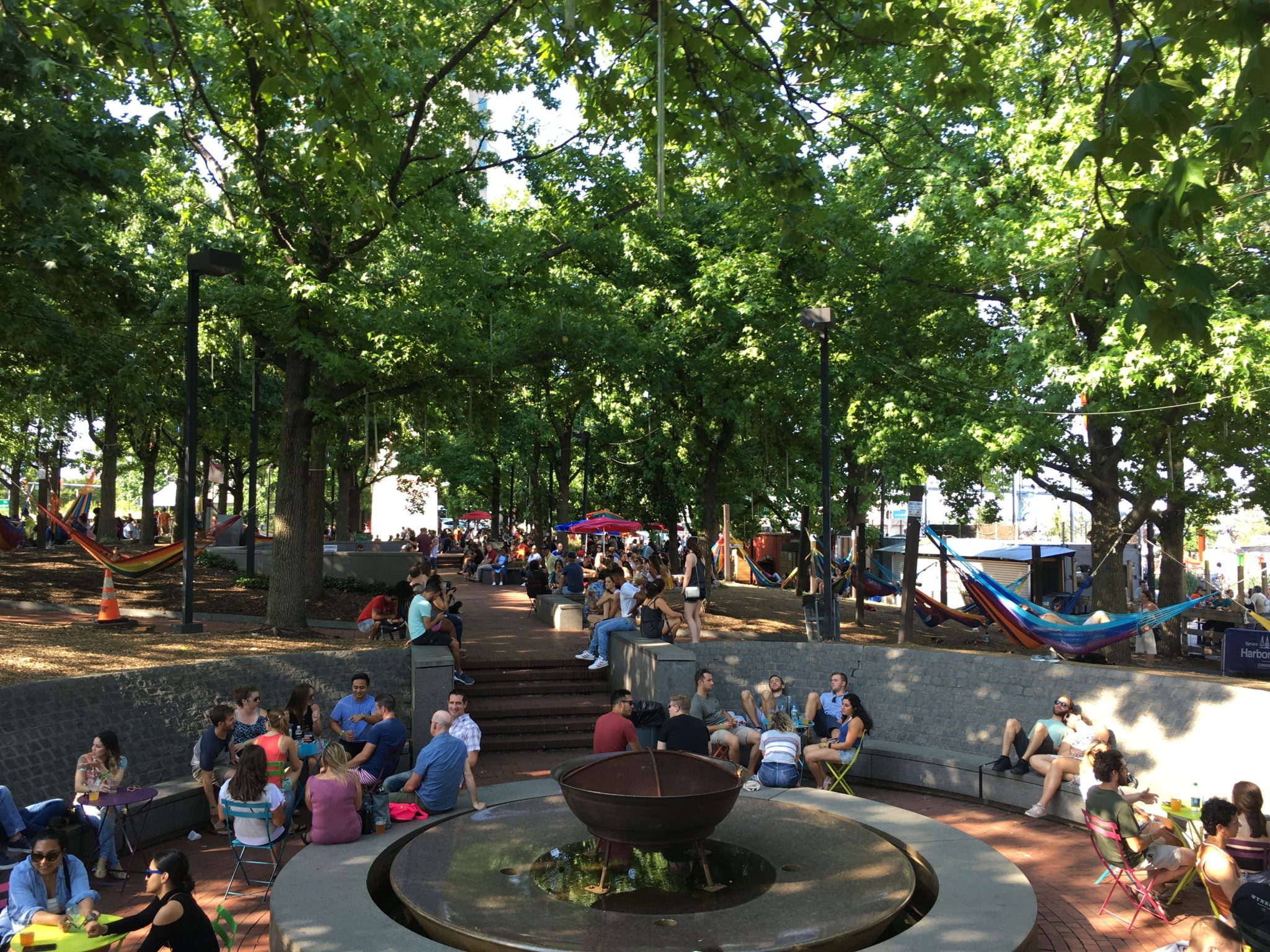 HOW TACTICAL URBANISM ENCOURAGES CITY DEVELOPMENT
A Beer Garden Renaissance
Let's talk about beer. More specifically, let's talk about how a lasting beer heritage can encourage a major metropolitan evolution.
Between the 1680s and the American Revolution, the majority of an estimated 100,000 German-speaking immigrants coming to North America settled in Pennsylvania. These immigrants brought with them a healthy love of brewing and drinking.
Rich Wagner, expert on Philadelphia's beer history, noted in the Ale Street News that the 1876 edition of the Philadelphia business directory contained over 2,000 listings for lager beer saloons in the city; by the late 1890s, there were nearly 100 breweries. With such a dramatic influx of Germans to Philadelphia and its surrounding regions, beer ingrained itself in American urban tradition.
Today, Pennsylvania and other states across the country are reaping the benefits of this long-established beer culture. According to a 2015 Travel + Leisure article, Philadelphia is undergoing a "beer garden renaissance"; what began over 200 years ago in southern Germany has become a national trend of outdoor beer consumption.
And the beer gardens of the 21st century aren't so different from those our Bavarian ancestors originally established in 18th century Europe. Usually equipped with large tables, festoon lighting, and ample shade, they're charming meeting places to eat, drink, and socialize without inhibition. On a developmental level, their primary value comes from their ability to transform underutilized public spaces into treasured community assets.
Meryl Levitz, CEO of Visit Philly, has observed the effects of the so-called beer garden renaissance: "We're reclaiming underutilized spaces… People have said 'I was in Philadelphia ten years ago and there was nobody on the street.' Now you can go out any time of day and you know that it's going to be a scene."
What is Tactical Urbanism?
The beer garden craze is the result of a much larger movement that has the express goal of generating social and economic capital in urban environments. This movement is referred to as "tactical urbanism", "DIY urbanism" or "creative placemaking". According to a brochure produced by the Delaware Valley Regional Planning Commission (DVRPC), tactical urbanism refers to "small-scale projects, often inexpensive and temporary, that are intended to positively impact a community and create a sense of place in a socially equitable way."
These small-scale projects make the most of underused spaces like vacant lots, deserted plazas, and inefficient streets by allowing artists and entrepreneurs to turn them into pop-up shops such as food trucks, art galleries, music venues, and beer gardens. In flipping the streetscape and demonstrating a place's potential value, cities are able to envision large-scale, permanent improvements that could foster even greater urban vibrancy.
Spruce Street Harbor Park: A Case Study
The perfect example of tactical urbanism can be found at Philadelphia's Spruce Street Harbor Park. Established by the nonprofit Delaware River Waterfront Corporation (DRWC) in the summer of 2014, the park sits just south of the Independence Seaport Museum along the Delaware River. Prior to DRWC's intervention, the area was a bare green space next to the pier. With a small budget and a little ingenuity, DRWC transformed that green space into one of the most successful summer hotspots in Philadelphia.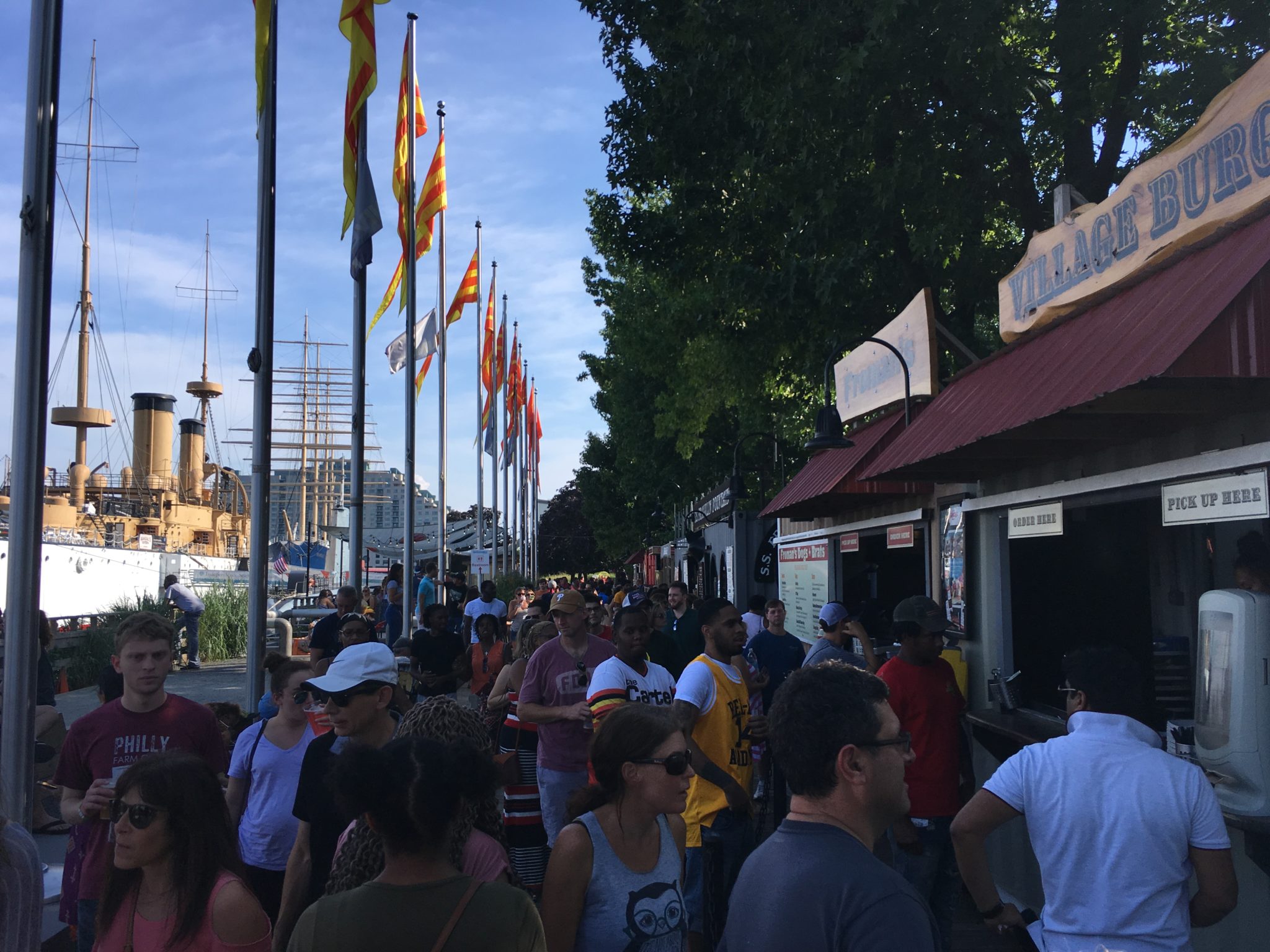 Hammocks, colorful hanging lights, arcade games, food trucks like Chickie's and Pete's outpost (selling its popular Crabfries and cheesesteaks), and a floating beer garden beach connected by three sand-covered barges have all contributed to the park's riverside ambiance.
According to CEO of the DRWC, Tom Corcoran, Spruce Street was so successful during its opening year that it was kept open an extra month. When all was said and all was done, over half a million people visited the park in 2014.
And that's not even the end goal. The DRWC is using Spruce Street Harbor Park as a stepping stone in order to produce a self-sustaining and permanent waterfront. The idea is to generate community and investor support for its $250 million waterfront master plan, which calls for changes that would improve access and foot traffic to the river. Ultimately, the small, cost-effective changes that the DRWC made to Spruce Street could eventually bring more jobs, housing opportunities, and tax revenue to the city.
Tactical Urbanism in Lancaster, PA
TONO Group is taking note of successes like these in Philadelphia and cities across the country. There is a proven connection between creating temporary urban destinations and reaping lasting community rewards.
That's why, in partnership with Voodoo Brewery and Prince Street Park, TONO Group converted an old shipping container into a pop-up bar in May of 2018. The bar joined TACOS Lancaster (which operates out of an Airstream trailer) at 118 N. Prince Street in downtown Lancaster.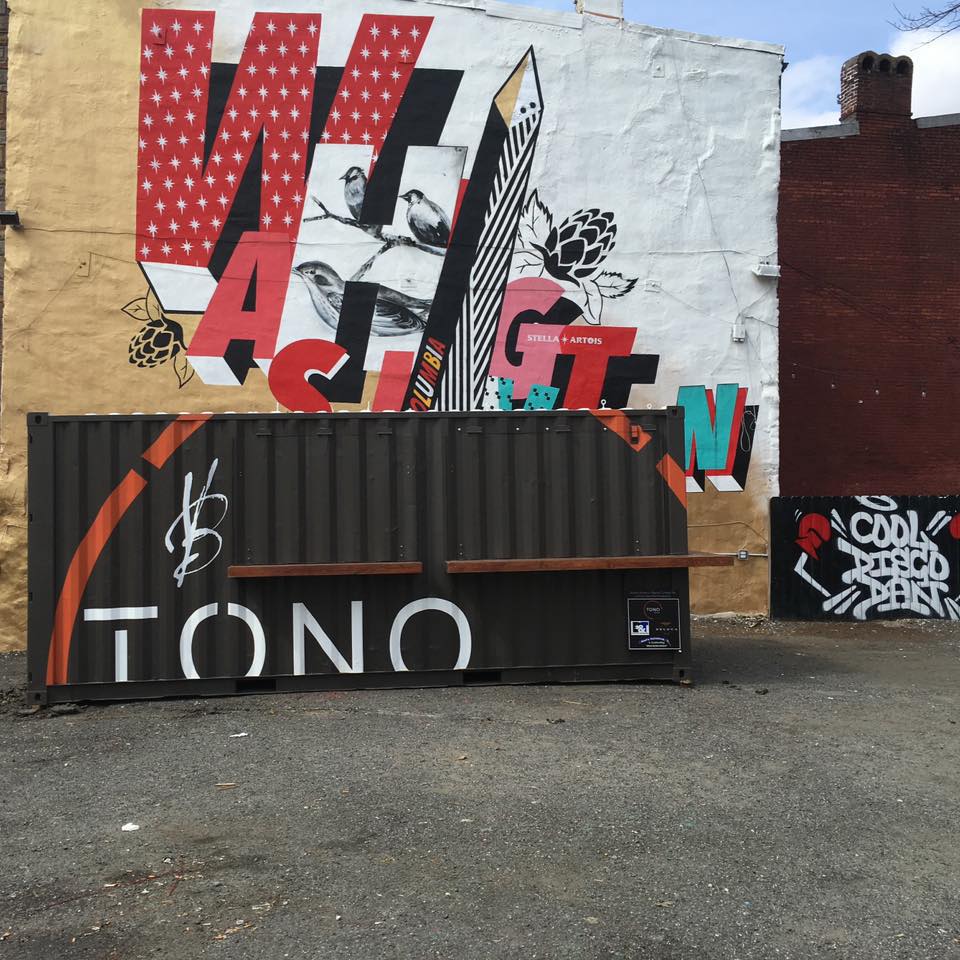 In another fantastic showcase of tactical urbanism, owners of the lot at 118 N. Prince, Kyle Sollenberger and Crystal Weaver, converted their empty concrete slab into a pop-up park in 2015. With the addition of Voodoo and other vendors, the area has functioned as a thriving beer garden, generating social capital throughout the year.
Our plan is to continue to make positive impacts (however small) in Lancaster and beyond. Even an old shipping container could pave the way for much greater things to come.