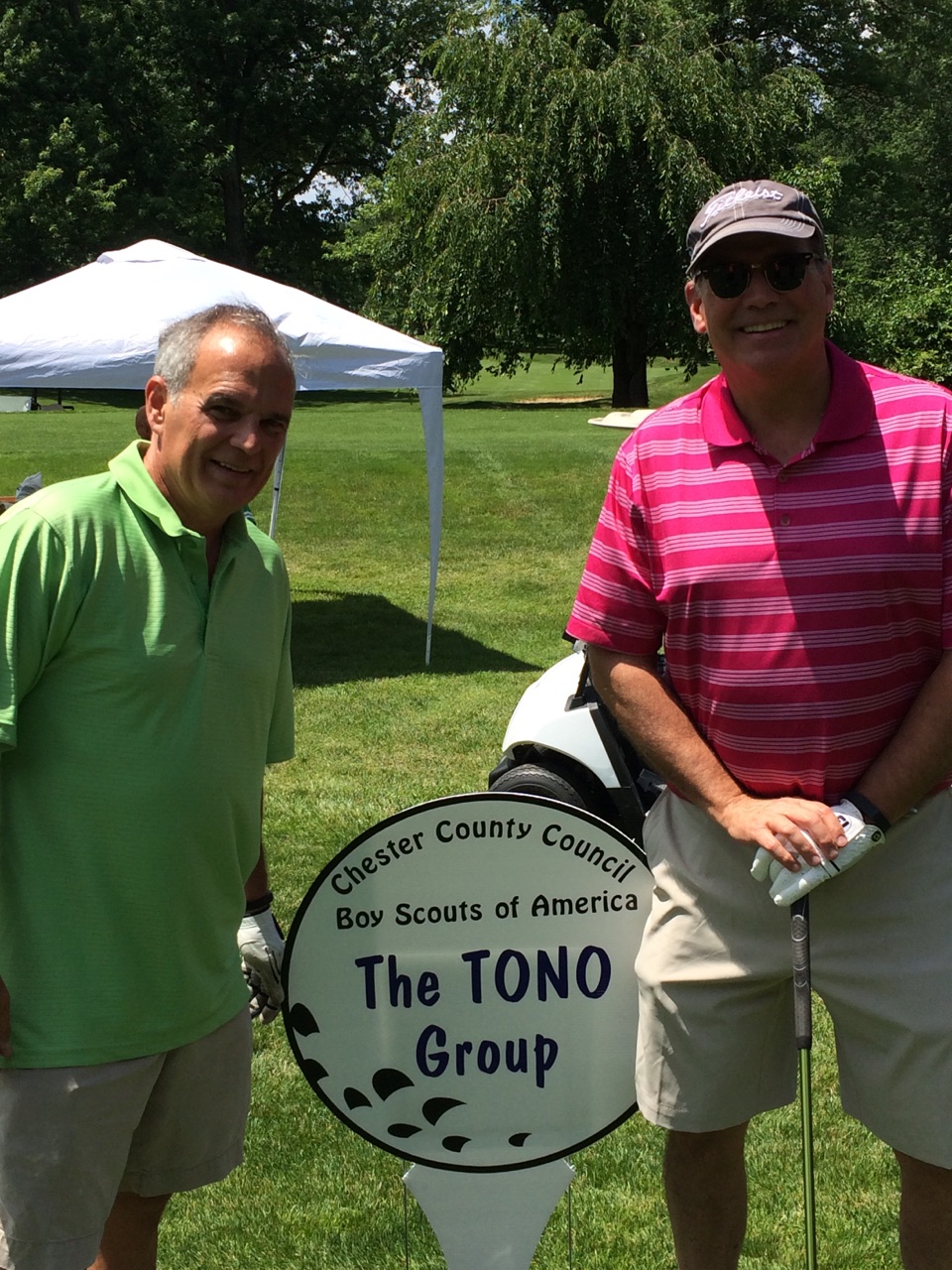 TONO GROUP SPONSORS 25TH ANNUAL DICK VERMEIL BOY SCOUTS OF AMERICA INVITATIONAL
TONO Group was proud to be a sponsor of the 25th Annual Dick Vermeil Boy Scouts of America Invitational! Together with Coach Vermeil, the Chester County Council, and the Boy Scouts of America, the celebrity golf tournament was held at the Downingtown Country Club in Downingtown, PA, and included brunch, an opening ceremony, golf, a cocktail reception, dinner, and an auction and awards program.
About Vermeil
Dick Vermeil began his coaching career at the high school level in 1959 after receiving a BA and MA from San Jose State. He secured his first position as an NCAA Division 1 coach by 1965 at Stanford. In 1974, he was named head coach of UCLA, where he led the Bruins to a Rose Bowl Championship.
His fifteen-year tenure as an NFL head coach began when he was chosen to guide the fortunes of the downtrodden Philadelphia Eagles franchise in 1976. In seven seasons with the Eagles, Vermeil engineered four playoff appearances. The highlight came, in 1980, when Philadelphia won the NFC Championship Game and advanced to Super Bowl XV. Vermeil retired in 1983.
Shortly after departing the sidelines in Philadelphia, he began a fourteen year broadcasting career, serving as an NFL and college football analyst for CBS and ABC. In addition, he provided color commentary for the Kansas City Chiefs preseason television broadcasts from 1989-1996.
In 1997, Vermeil returned to the league as head coach of the St. Louis Rams and led the team to its first Super Bowl victory after the 1999 season. Vermeil retired again but returned to the arena in 2001 when he was named the ninth head coach of the Chiefs. He retired from that franchise in 2006 but has since served as a color commentator for ESPN and the NFL Network.
After returning home to the Philadelphia area he has found time to help many worthy causes—including The Mary Campbell Center, Elwyn Inc., Devereux, Chester County Food Bank, Boys and Girls Club of Philadelphia, and Special Olympics. He's also involved with People for People, Inc., a community outreach organization founded by Reverend Herbert Lusk, a former Eagles player for Coach Vermeil.
Dick and his wife Carol reside in rural Chester County, PA, and devote some of their time to their Vermeil Wines and tasting rooms in Calistoga and Napa, California. They had two sons, one daughter, and eleven grandchildren. In 2017 he was awarded an honorary Doctorate of Humane Letters from Temple University.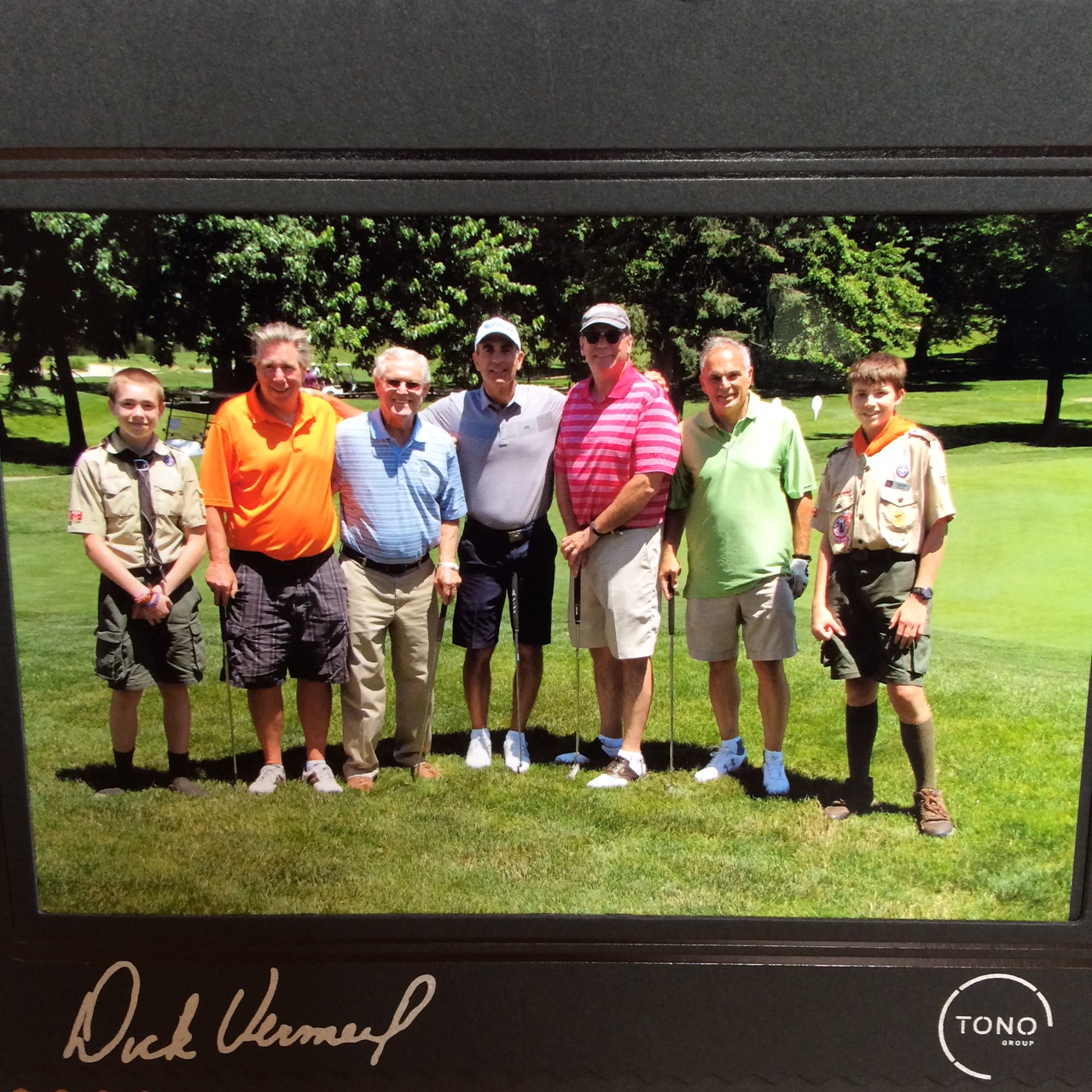 Dick Vermeil (in blue stripes) and Bert Kramer (in red stripes), TONO Group's Director of Finance & Strategy, enjoyed the day!
A Message from Coach Dick Vermeil about the event (Honorary Chairman):
Since 1993, this tournament's success has helped the Chester County Council, Boy Scouts of America continue its mission of offering programs that develop the character, citizenship, and mental and physical fitness of our young people. For more than 100 years, Scouting has taught America's youth to be "Prepared. For Life." The Scouting program offers families fun and adventurous things to do. The quality of our nation's future depends upon the young leaders. I believe there is nothing more critical for our country than to build good, strong leaders for tomorrow; it's important that youth know they have choices, but they must be guided to learn how to make the correct ones. The Scouting program is designed to do just that—a fact of which I am most proud!
A HUGE thank you to our many loyal sponsors and participants, some of whom have been with us since the very beginning, for believing in our cause enough to make a financial commitment; your support is key to our success. Over the past 25 years, together we have raised over $4 million dollars for the Scouting programs of Chester County.
Additional thanks to the celebrities who took the time out of their busy personal lives to join us here today; we enjoy sharing this event and time with you!
Read more about the event here!