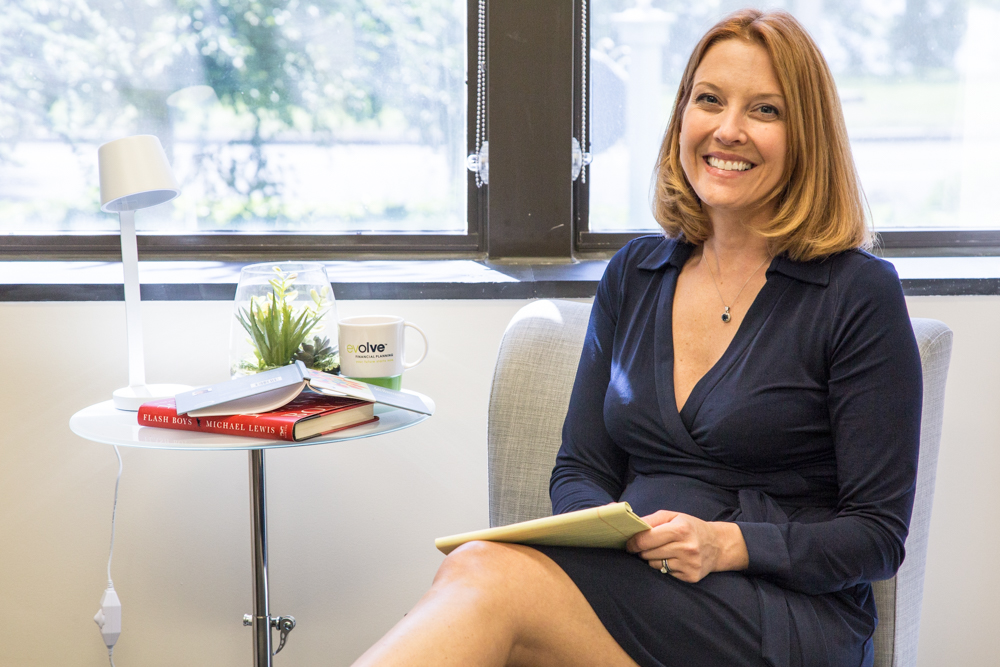 WORTH EVERY PENNY: RENOVATING EVOLVE FINANCIAL PLANNING
Project: evolve Financial Planning, Inc.
Location: Harrisburg, PA
Projection: 1,800 sq. ft. (2,100 total building)
Entities: TONO, PROTO, DECO
Worth Every Penny
Imagine speaking to a financial advisor about your investments or your retirement plan. What kind of interior environment would make you feel comfortable? When it comes to something as important and intimate as your finances—it makes sense to create a welcoming space with colors and furnishings that help energize and incentivize your goals.
And that's just what owner Jackie Kimmel, CFP, had in mind for her company, evolve Financial Planning, Inc.
Following a name change and rebrand, she knew an office makeover was the next step. TONO Architects, PROTO Construction, and Interiors by DECO worked together to deliver a complete renovation—strengthening evolve's brand awareness while showcasing its adaptation and dynamism toward modernity.
The building was constructed in the 1950s and its gorgeous mid-century modern appeal perfectly complements its scenic North Front Street location along Harrisburg's Susquehanna River. Kimmel enjoyed working with TONO Architects' interior designers to translate the building's more organic form to the building's interior.
"We didn't want to hide it; we wanted to pay homage to it!" she says. Interiors by DECO procured lighting, furniture, and finish selections—although Kimmel was encouraged to add her signature style with accessories and personal touches. "We added funky coffee tables and incorporated bright, bold patterns on the chairs and wallpaper," she says. The distinct architectural style, combined with similar interior and exterior environments, produced a modern place that brings the outdoors in.
In addition to striking a balance of comfort between old and new and inside and outside, PROTO Construction helped open up the space—giving it a contemporary feel. Updates included new flooring, ceiling, trim work, and fresh paint on the walls which magnified the vibrancy of the spaces between. Colorful and size-appropriate furniture replaced dark, oversized seating. Clean, minimal light fixtures replaced thick drapery, and several unique, live edge slabs put the emphasis on woodwork and craft. Kimmel's favorite apple green color was accented with the Raymond James blue to solidify her brand and logo—energizing the space through consistency.
But it was the work in her conference room where she's noticed the greatest change. The seamless floor-to-ceiling glass made a big impact—resulting in a literal and metaphysical transparency between Kimmel and her clients. "The conference room is my favorite space," she says. "In such a short time, I've had great conversations with clients in there and it's incredibly functional." Whether the success of the room is due to calming warm woods or whether, through function, it invites a feeling of trust and security, Kimmel is able to use the room as she intended and can build better relationships with her clients as a result.
In addition to renovating two private offices, PROTO also transformed the kitchen. With fresh fruits and placesettings readily available, the gathering space for clients and employees is arguably the best place to enjoy the fruits of their labor.
Plants, flowers, and greenery spring up throughout the interior environment while thoughtful accents, each inducing a story, showcase evolve's core purpose to deliver an elevated experience. And that energy is palpable.
"The view is amazing. It's wonderful to be able to go out at lunchtime and take a walk up and down Riverfront Park…as long as the river stays on that side of the street," she says as she turns her head toward a plaque hanging on the wall to her left. The original brass plaque didn't match the office's new look so a new one was made. "It's the high-water mark from Hurricane Agnes. Hopefully we never see it again. It's quite the piece."
The plaque is only one of those details that serves as a reminder of natural energy. There are a few others. Look a little closer and you'll find Kimmel's Bonsai tree, given as a gift from her husband, in its early stages of training. Inevitably its value will be representative of its small, but strong, adaptive growth from years of pruning and a lot of care. Look a little closer and you'll find Kimmel's paperweight that's filled with pennies—a meaningful gift from her father-in-law. Beside it sits a potted plant wearing a pair of round, dark-rimmed spectacles. "My son named him Hairy Potter," she laughs.
When asked for one financial tip, she says to start early and be open to new ideas. "Retirement and financial planning is an evolving process. It's never static. You have to have an open mind and invest in your future."
As she looks around her office—across all time zones and a renewed space—she's taken her own advice. "Every day I come to work I am grateful, very grateful. I'm blessed to be in such a great place."
Learn more about Kimmel and her team at evolve Financial Planning, Inc. at www.evolvefpl.com. Evolve Financial Planning, Inc. is located at 2415 North Front Street, Harrisburg, PA 17110 and can be reached at 717.236.0480. Disclosure: evolve Financial Planning, Inc. is not a registered broker/dealer, and is independent of Raymond James Financial Services. Securities are offered through Raymond James Financial Services, Inc. Member FINRA/SIPC. Investment Advisory Services are offered through Raymond James Financial Services Advisors, Inc.
*NOTE*
While the interior renovation was completed in mid-May by TONO, PROTO, and DECO, Kimmel's husband is an excavator and his team is completing the exterior renovations including epoxying the sidewalks, paving the parking lot, installing new hand-railings, designing new landscaping, and painting the building's exterior trim.