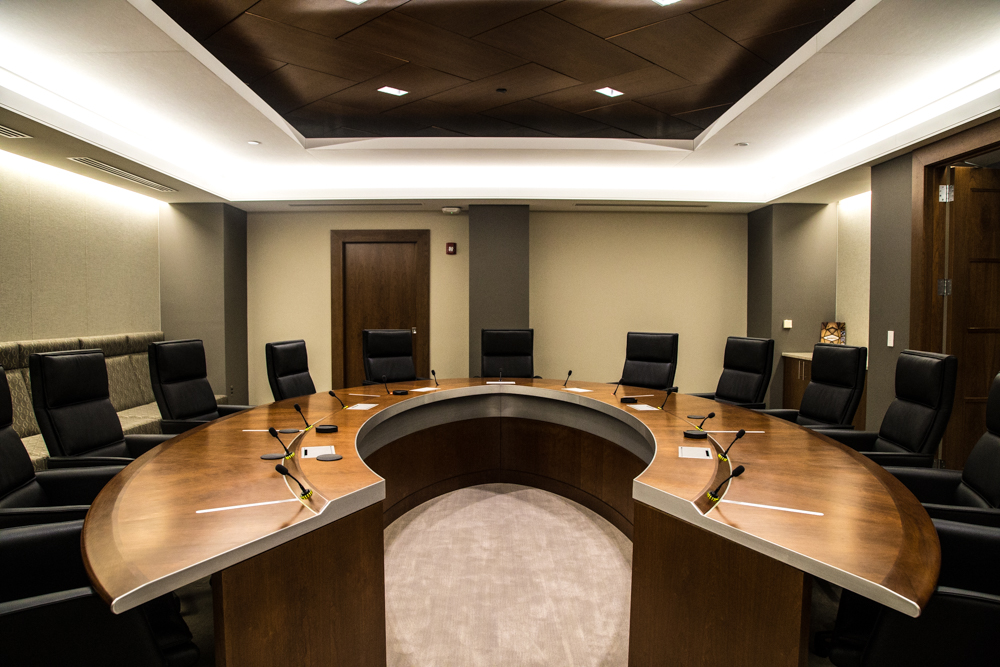 ARMSTRONG WORLD INDUSTRIES: INSPIRING GREAT SPACES
Project: Armstrong Building 5B
Entities Used: TONO, PROTO, DECO
Projection: 3,000 sq. ft.
Armstrong Building 5B exemplifies the company's tagline Inspiring Great Spaces. It's comprised of an executive boardroom, conference room, bathrooms, kitchenette, and offices for executive professionals and assistants. TONO Architects, PROTO Construction, and Interiors by DECO worked together to design, build, and procure fixtures, furnishings, and accessories for the space.
Specifically designed to incorporate a 3-tiered ceiling using all Armstrong Ceiling products, the executive boardroom is complete with state-of-the-art video conferencing technology. Additionally, Armstrong's Soundsoak product was applied to the walls to absorb sound and deliver an exceptional acoustic experience.
PROTO's longtime friend and carpenter, Philip DeCubellis of 3D Custom Cabinetry, handmade a gorgeous custom 14-person conference table in the image of a similar table in another building on Armstrong's corporate campus. Other custom woodwork appears throughout the space—including the large doors accentuating the grand entrance to the executive boardroom.
TONO Architects' interior designers furnished the space—and used Interiors by DECO to procure all the furniture in the offices, conference rooms, bathrooms, and kitchenette including chairs, tables, lighting, bathroom fixtures, finishes, and accessories.
Project: Armstrong Building 5ABP
Entities Used: TONO, PROTO
Projection: 9,000 sq. ft.
The goal of the project at Armstrong Building 5A was to create offices and conference rooms to accommodate the company's growth. Looking to add more light and more space for new employees and a place for them to gather together, TONO Architects and PROTO Construction helped to accomplish this goal.
Because the offices were located in the middle of the building, with no access to natural lighting, a skylight was added to allow light to flow into the space. Two testing labs were converted into conference rooms and TONO architects' interior designers selected finishes for the space that add a comfortable and professional feel.