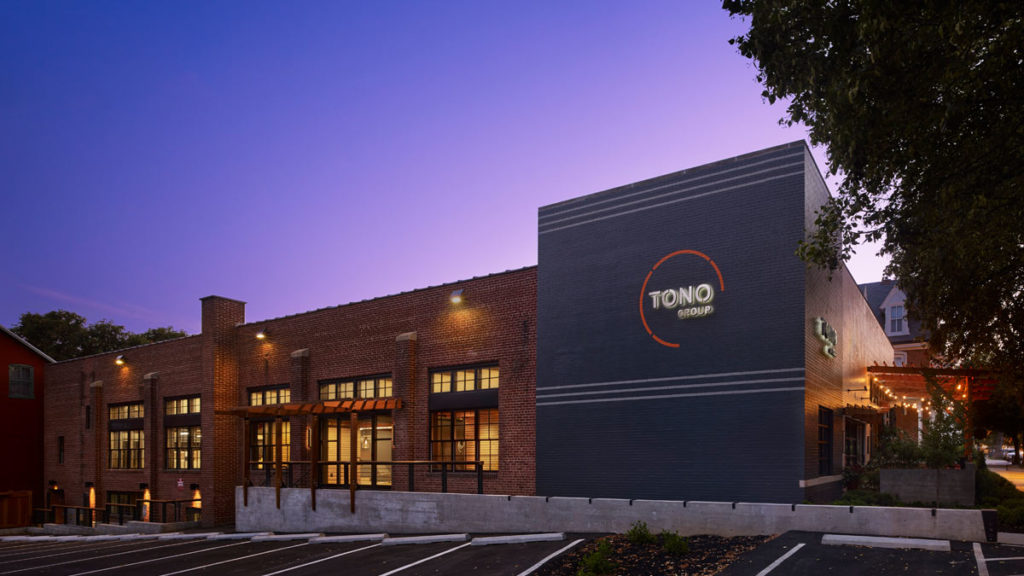 This was an op-ed piece Hunter wrote for Fine Living Lancaster Magazine nearly six years ago. During that time, he launched PROTO Construction, Interiors by DECO, RETRO Development, and RELO Real Estate—establishing the brand TONO Group.
Read it and see if you can trace his thoughts for the development of each entity. (It is also worth mentioning that Hunter's a huge fan of Elon Musk and Tesla.)
March 20, 2011
"Ode to Mod"
By D. Hunter Johnson, AIA (Managing Principal & Owner)
While checking box scores and emails this weekend on my precious little handheld interactive device, I noted the simplistic elegance and ergonomic efficiency of Steven Jobs' marvel of modern technology, the iPhone. Seamless in appearance, devoid of ornament and captivating to the touch and to the eye, Apple continues to spearhead the digital age with unparalleled proficiency for marrying the essence of pure form with unbridled functionality.
In similar fashion, the automotive industry continues to redefine itself offering near flawless interface between machine and operator with advancing technologies aimed to develop newer breeds of personal transportation. Streamlined, aerodynamic automobiles envelope drivers and passengers in an environment of comfort, safety and automation with voice-activated, heads-up, geosynchronous technologies all created to meld innate human characteristics with mechanized performance.
Within our consumer-driven, high-speed, ultra-savvy, hypersensitive western culture, we relentlessly pursue the latest sophistications of convenience, efficiency and comfort. From telecommunication to transportation, from multi-media devices to nutritional supplements, from writing implements to musical instruments, we seem to crave the modern. Our lives have become an "Ode to Mod."
So why do we continue to propagate cliché building styles of bygone eras? How come new cul-de-sac communities still reflect nineteenth century, pre-industrialized architectural ingredients more relevant in 1911 than 2011? And most specifically, why do we maintain an apparent paradoxical view of our need for advancing the modern in every aspect of our life with the exception of our homes?
In outward appearance and internal configuration, most homes, whether single-family detached in nature or part of a townhouse or apartment conglomerate, maintain deference to a smattering of historical references. Punctuated with Palladian fenestration, trimmed in plastic ornament, adorned in vinyl relief and festooned with a myriad of complex roof geometries, we appear to pay no heed to our admiration for functionality, performance and efficiency.
Browse the shelves of your local Barnes and Noble and you are bound to find countless magazines dedicated to the proliferation of "classic home styles" with overly-compartmentalized and outmoded planning configurations, and facades bearing a hodgepodge of replicated, yet disjointed historical references. Neither historic nor classical, the building construction practices necessary to create these artificial edifices is both abhorrently wasteful and environmentally irresponsible.
Driven more by nostalgia than erstwhile compassion for all things historic, we appear to default to "what has been done before," than seeking creative inspiration and the application of newer, more ecologically responsible practices. Off-the-shelf consumerism has replaced genuine thoughtfulness and careful stewardship of land, physical resources, and the human experience.
The best examples of three centuries-old architecture from the early Colonial period to the late Victorian still exist in Lancaster city and the surrounding boroughs of the county. Opportunities to own or restore these gems abound and although the economic realities of maintenance are challenging, the long-term appreciable value exists and their cultural significance is irreplaceable.
Moreover, new and innovative home construction has a place alongside our historic past and throughout the developing landscape when carefully designed with the human experience and natural environment forefront in our mind.
By employing the same inspired logic we embrace to advance other aspects of our lives, our homes, neighborhoods and communities will benefit from the same pursuit of functional purity and efficient resource management. Only then will the mainstream residential architecture of the 21st Century speak to the ideologically modern soul of our generation.
Joyfully,
TONO Group