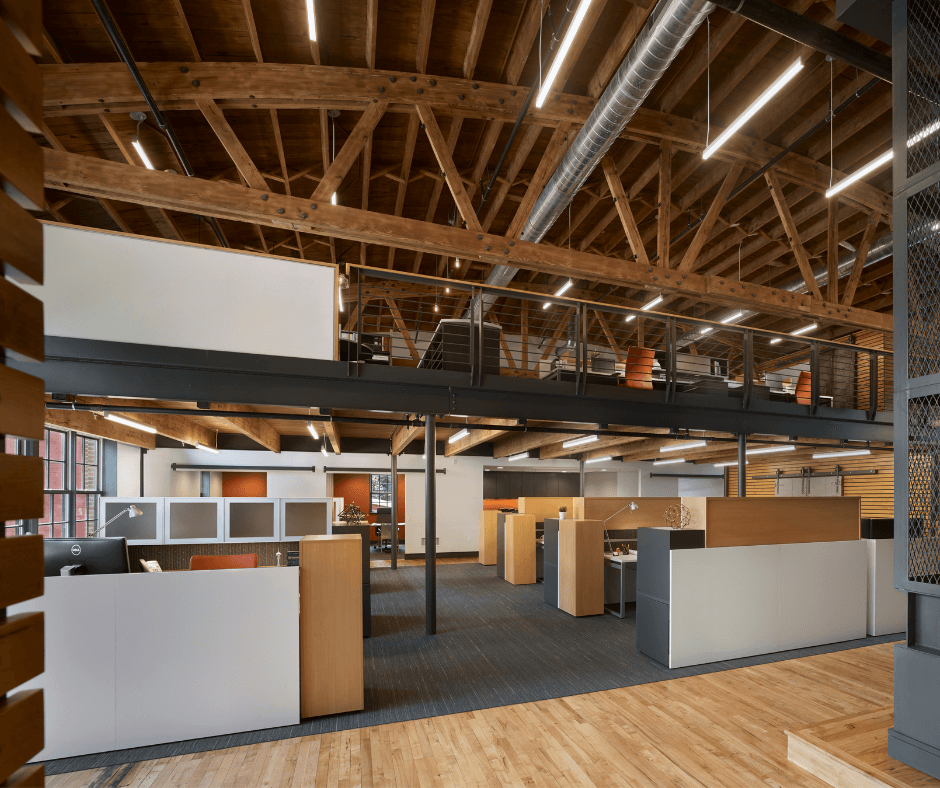 COMMERCIAL DESIGN TRENDS YOU SHOULD CONSIDER FOR YOUR WORK PLACE
Workplace design trends are typically born from technological influence, financial shifts, or a desire to alter traditional styles. Some offices are hesitant to redesign or follow trends, though, because functionality is prioritized over aesthetics. Would that decision change if those uncertain individuals learned that they could have both advanced serviceability and beauty in their workspace?
Research shows that adjustments in office design could influence employees to experience an increase in overall productivity. Those adjustments can be introduced to your company at whatever stage you are in. Whether you are starting from ground zero or have had an established space for years, revamping your workspace design could drive success and help you meet your new business goals. Before deciding where to make changes, preplanning with a design professional and identification of goals helps to identify potential challenges with your office improvements.
Challenges of working in an office
In today's culture, working in an office is not convenient or preferable for many employees. According to the United States Census Bureau, "In 2019, the average one-way commute in the United States increased to a new high of 27.6 minutes". It was the norm for staff to commute to and from work each day and while around 30 minutes was the average in 2019, many people travel up to an hour or more one way. This commute adds time to the regular work day and creates challenges for many trying to manage work-life balance. Many people spend more time in the office than they do at home, which is why it can be difficult to maintain an ideal work-life balance. Offices also have a tendency to be cold and formal, making it difficult for employees to focus and adopt comfortability in the workplace. Beyond these issues, healthy safety has become a greater societal priority, but in office settings, employees are often exposed to several coworkers and peers, making for a sizable breeding ground for spreading illnesses. Although these issues and inconveniences sometimes characterize an office as an undesirable space, workspaces are still necessary for operation in most industries. The proper adjustments could potentially resolve some of the typical challenges employees face when working in the office.
Challenges of working from home
Working from home isn't without some difficulty either. Employees have found themselves to be more lonely and disconnected from their teams while working from home. Some people prefer to work in person at the office because of the direct communication with other coworkers and superiors, noting higher overall productivity in the workplace. Organizations also might recognize an increase in productivity when their employees work in the office compared to at home because of more frequent personal distractions people face at home like children, pets, chores, etc. Lastly, there are limitations on space when working from home. Some people are able to utilize a home office, while others end up using their kitchens or whatever place is available. Either way, an office offers much more space in a more convenient way. While working from home does have its challenges, there are aspects of this nontraditional way of operations that can be adapted within the office to promote positive growth.
4 WORKPLACE TRENDS
As challenges evolve both in and out of the office, so do solutions and trends. Certain workplace design trends gain popularity for a reason. It is likely that the most popular trends are both fashionable and functional, leading people to share their positive experiences. Following the current trends, there are 4 specific design strategies TONO Group believes could refresh and renew your office.
1. Adding comforts of home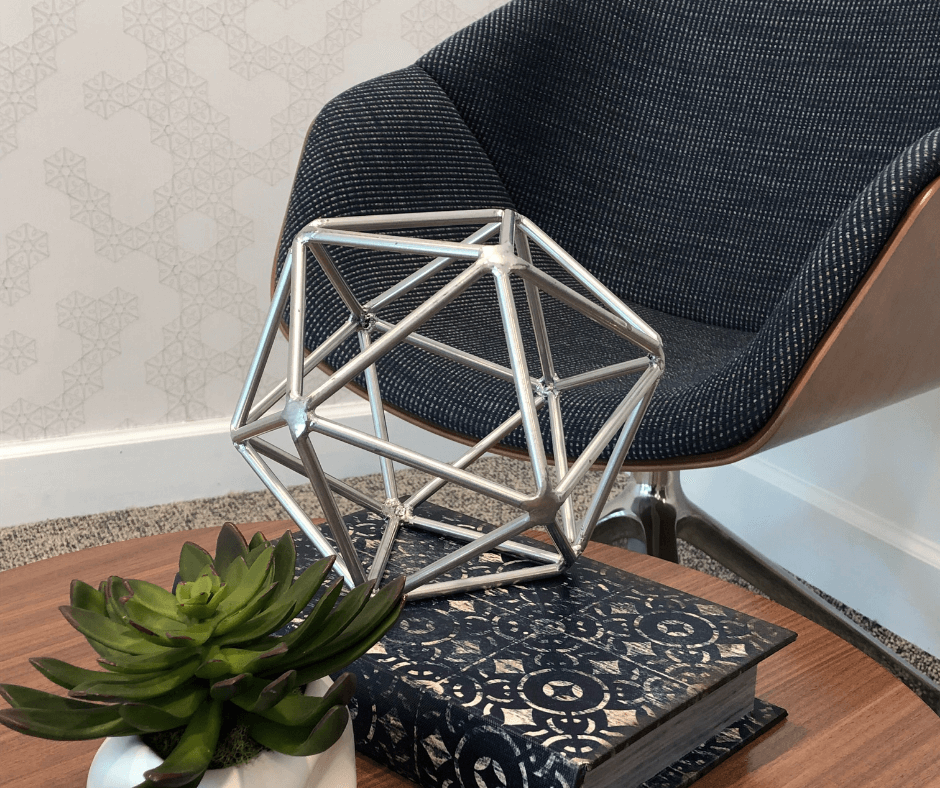 Like many trends, this one in particular was greatly influenced by societal changes, as well as technological advancement. Office employees have become accustomed to working from home after being required to work remotely for public health protection. Upon returning to the office, employees found they had new expectations for their workspace. Employees who have shared the experience of working remotely now desire an office structure that reflects the comforts of their own home. Allowing for more personalized spaces when redesigning your workplace could be extremely beneficial for your employees and could lead to an increase in productivity. This could come from a more comfortable interior design strategy utilizing specific fabrics and furniture often used in home. There might be more lounge areas, pillows, and relaxed lighting. Trending paint colors for the home might also be considered when designing the office now. All of these details will help reflect the level of warmth and comfortability employees now desire in the office.
2. Incorporate nature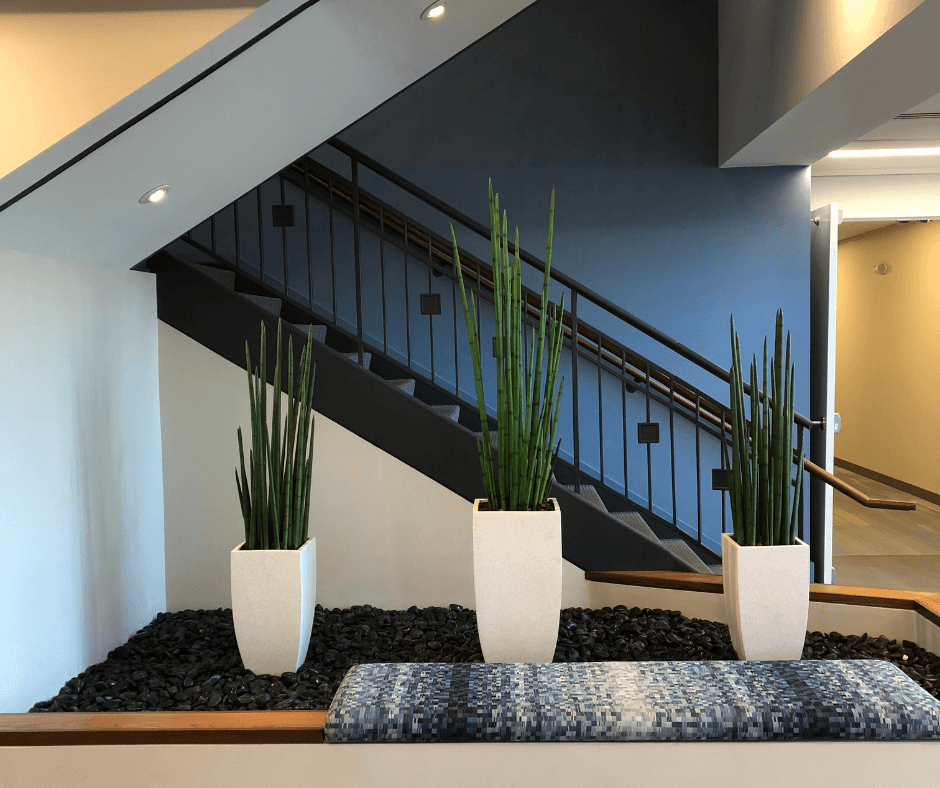 If you're looking for a simple, sustainable, and supportive design trend, this one is perfect for you. Research shows health, both mental and physical, has a large impact on productivity in the workplace, which is why incorporating nature is a successful trend that you should follow. The National Resource Defense Council defines biophilia as "the innate human instinct to connect with nature and other living beings." There is empirical evidence that people desire to be surrounded by nature. For people who on average spend about 90% of their time indoors, connecting with nature on a regular basis is nearly impossible. Plants bring warmth and life to an office and have a positive influence on employees, even rehabilitating them. NRDC shares, "Biophilia is more than just a philosophy—biophilic design has been found to support cognitive function, physical health, and psychological well-being."
Relating to physical health, plants remove toxins in the air through the process of photosynthesis, which is extremely important to include indoors. According to the US Environmental Protection Agency Act, indoor air pollution is four or fifteen times greater than outdoor air pollution, and in this case, plants can protect you and your employees from the damage of such pollution. Improvement in air quality and circulation is also proven to increase cognitive abilities by nearly 61%, as Archdaily points out, which in turn increases overall productivity.
There are several ways to approach adding nature into a space. You can add natural elements such as plants, water, and strategic lighting, for example, to directly include the presence of nature. You could also select a more representational approach by incorporating natural materials like wood or earthy tones such as greens and browns to mimic the aesthetics of nature in your space.
3. Open Concept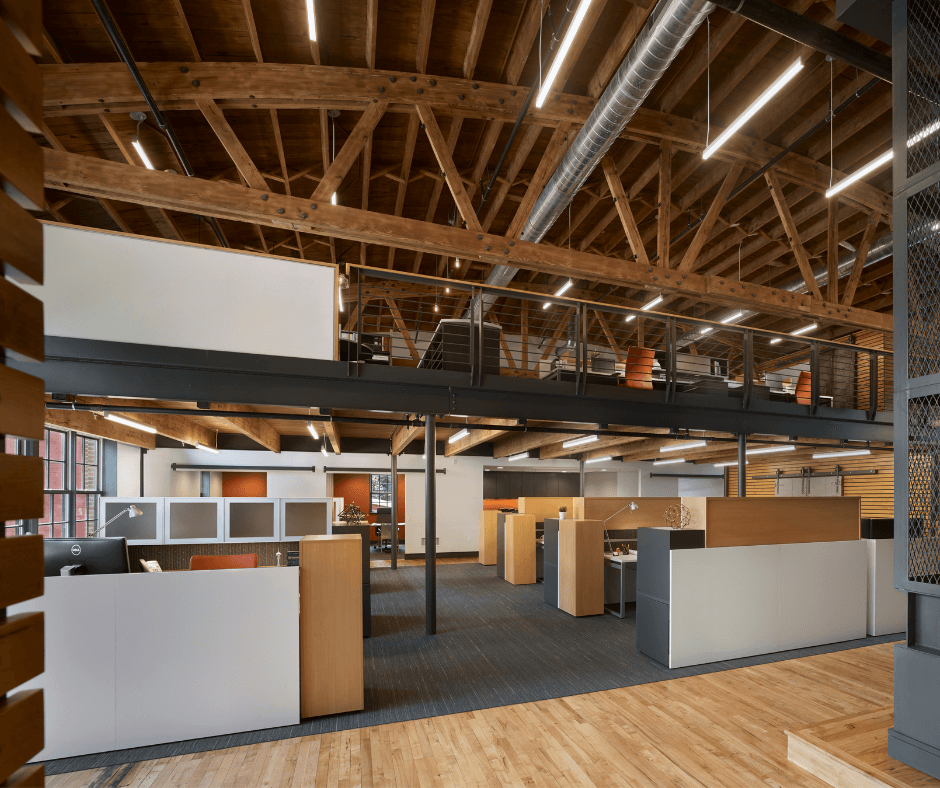 Open concept offices are currently trending, but it isn't just a fad. There are real benefits to having an open concept workspace design. The heart of an open concept is its shared spaces with minimal walls or physical separations. An open workspace promotes interaction and collaboration. It quite literally breaks down the barriers that restrain communication and teamwork. An adjustment in the layout of your office design could encourage interconnectivity between employees, likely leading to an increase of comradery, company loyalty, and growth through shared ideas. It is important, though, to maintain spaces for isolation to meet specific needs. For example, there should be smaller, enclosed spaces still available for meetings that also recognize the health risks of being close to others. The shared, open spaces are the main focus of the office, but the secluded spaces support the organization's variety of needs.
4. Noise Control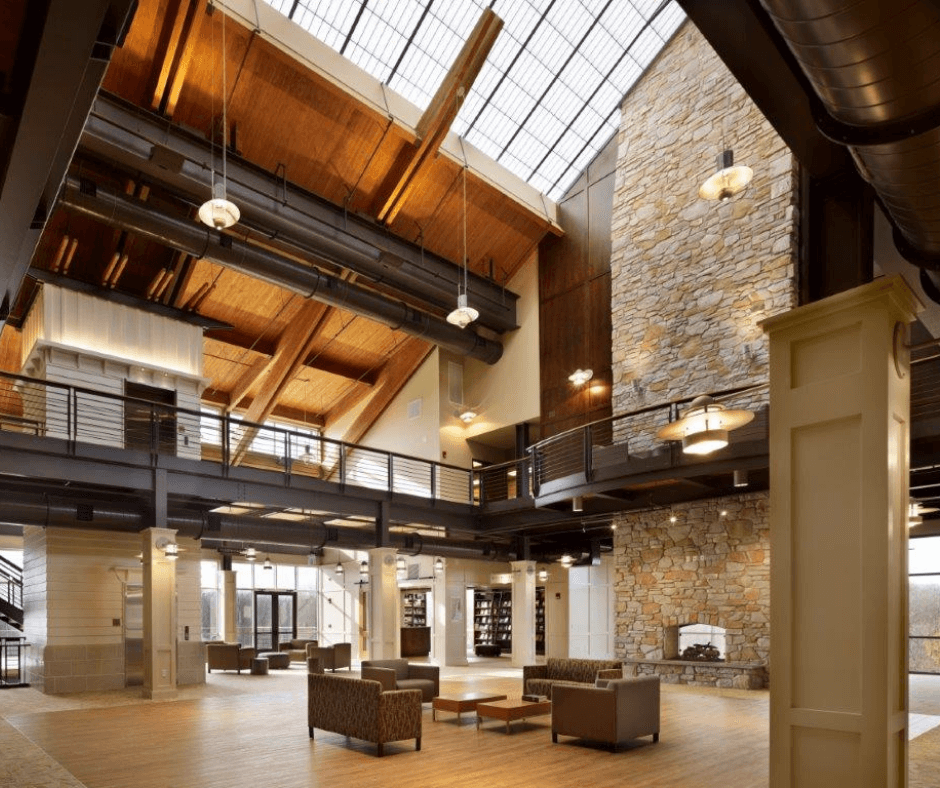 Acoustic comfort can be one of the most important aspects to consider in workplace design. This trend is often linked to open concept offices because open spaces can cause acoustical issues, leading to the need for sound treatment built into the design. Noise can be distracting, frustrating, and in extreme cases, psychologically damaging. Archdaily explains that "all materials have some acoustic performance, either reverberation or absorption," meaning each piece of a space whether it is the ceiling, floors, windows, tables, support beams, and even people, have an impact on noise. Decrease in cognitive function and productivity are often the consequences of poor sound design in a building. Both of these functions are essential to office functionality, making noise control a high priority in office design. This reinforces why some noise control techniques, like exposed wood, have become trendy. Sound design calls for an expert design professional who can study the demands of a specific space and determine the correct recipe of materials and makeup for the best results.
HOW TO PICK A DESIGN THAT FITS YOUR COMPANY BEST
Not all trends are going to be right for your office. And there are other strategies that aren't covered in this article. When embarking on your office redesign it is essential to evaluate the needs of your employees, contemplate your company culture, and forecast future technological requirements. Your employees will spend their time in the office, and so it is important to understand your workforce needs. Investing in their workspace will increase productivity and benefit all levels of the organization. You also want to pick an interior design that will reflect your company culture. If you are already established, this is a change to strengthen the core of your business message through design to remind employees and clients of your values. If you are building from the beginning, this stage is your chance to define your culture by using design to represent your principles and standards as a company. Each architectural decision is both artistic and strategic.
Lastly, forecasting is important to make sure your workplace is sustainable and adaptable. It should be feasible to modify the trends you follow to welcome new advancements, especially in technology. You might also want to consider current design trends which can be short lived versus more classic options.
How to make your design dreams come to life
Whether you are creating your dream office from scratch, reconstructing what's already existing, or adding stylized details, it's important to have a team that can help support your goals. TONO Group is an architectural practice with a multidisciplinary team that celebrates collaboration, innovation, and creativity. TONO Group offers an all-in-one, streamlined design process and execution from working with PROTO, our building team, TONO, our design and project management team, and decorating and furnishing with Interiors by DECO. It is our priority to understand your goals and aspirations for your project. If you are considering incorporating any upcoming trends into your space or are curious about improving productivity in your workplace through building and interior design, contact TONO Group to bring your visions to life.