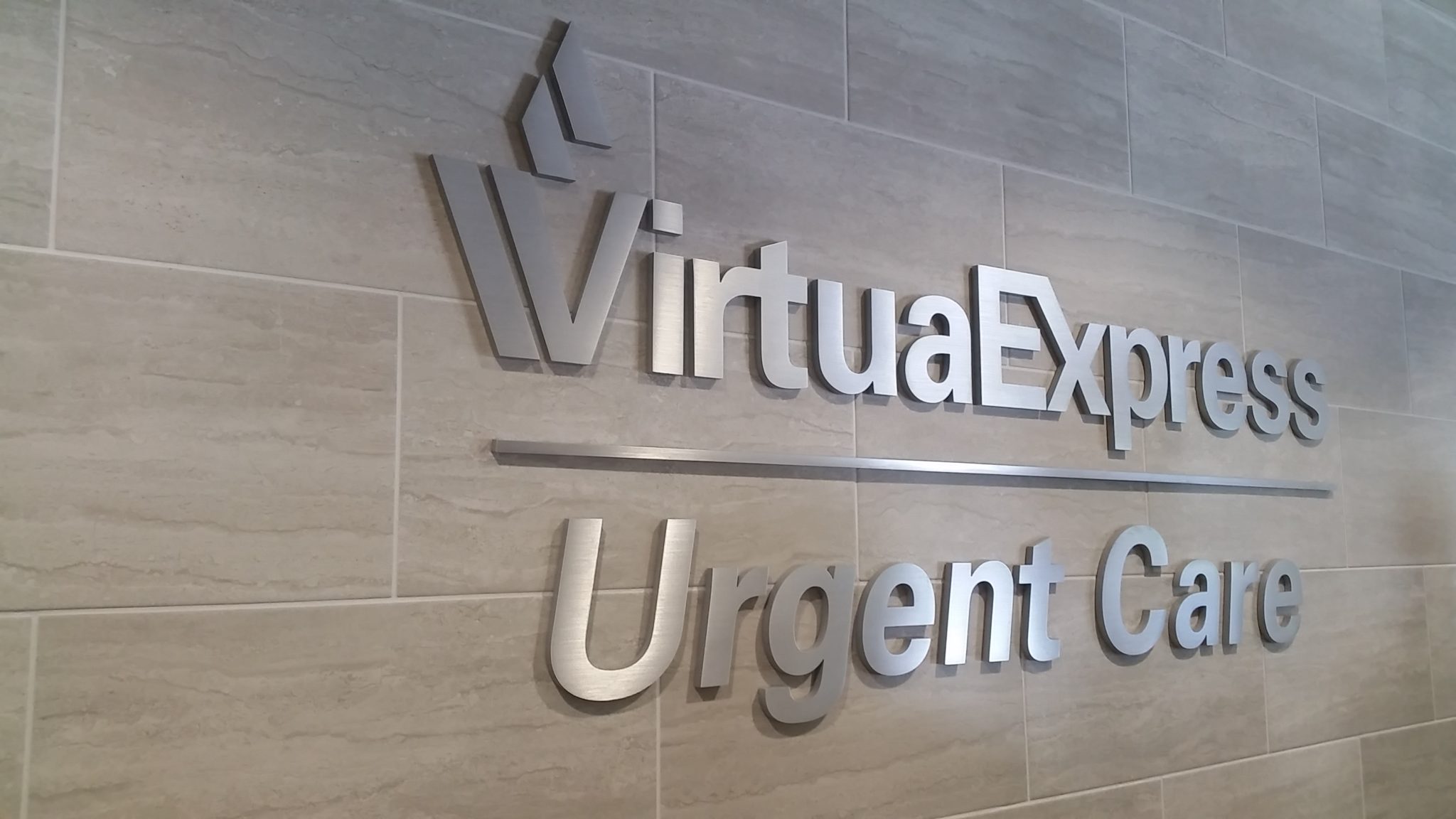 A CASE STUDY: VIRTUA EXPRESS URGENT CARE (CHERRY HILL, NJ)
Good design brings recognition to a trusted brand. TONO Architects was pleased to have the opportunity to work with the Virtua team once again. Having successfully completed work on prior projects, including Medford, Mount Holly, and Robbinsville, the Virtua Express Urgent Care in Cherry Hill was thoughtfully planned and designed to embody Virtua's core mission to offer the best quality care through their extensive range of services and facilities.
Together with the Virtua team, TONO Architects has continued to work across several locations to elevate the patient experience through meaningful design.
Understanding the Process
We listened to Virtua's core mission and translated that into a physical entity at Cherry Hill's Express Urgent Care. The goal was to make efficient use of the space in order to help their staff streamline their processes and focus on the needs of their patients. The building, in many ways, is a living embodiment of their core values and goes hand-in-hand with the patient interaction and the employee work flow.
Patient interaction– is the journey of the patient from the moment they enter the building, check-in at a reception desk or a kiosk, experience the waiting room, and travel to the exam room. TONO Architects designed the Express Urgent Care to help patients easily navigate their way from waiting to treatment rooms, thereby freeing the staff to complete their work in an efficient and effective manner.
Work flow– in a primary care facility may be analyzed as having three zones: patient, staff, and joint-use. The patient zone is entry, waiting, and patient restrooms. The staff zone is all the places for staff only: work rooms, break rooms, and supply areas. Joint-use is where staff and patients come together.
Designing a Shared Space
Virtua's innovative idea was to encourage, by design, doctors and nurses from single cellular offices into a more collaborative center space, therefore increasing the visibility and accessibility to patients.
"The Virtua team works hard to break down barriers between the doctor and the patient in order to provide the very best in care while making the patient feel less stressed, more comfortable, and better connected to their doctor," says TONO Architects' Principal, Martin Valins. "There's actually a very strategic incentive for what we can do to make the patient feel at ease and feel welcomed in a Virtua building—whether it's an urgent care, hospital, or a primary care building."
In order to differentiate patient areas and staff areas, TONO Architects purposely planned the bulkhead so the open space feels like a room or an area that is not for the public or the patient. While the open space invites collaboration and interaction, it also provides a visual distinction between public versus private.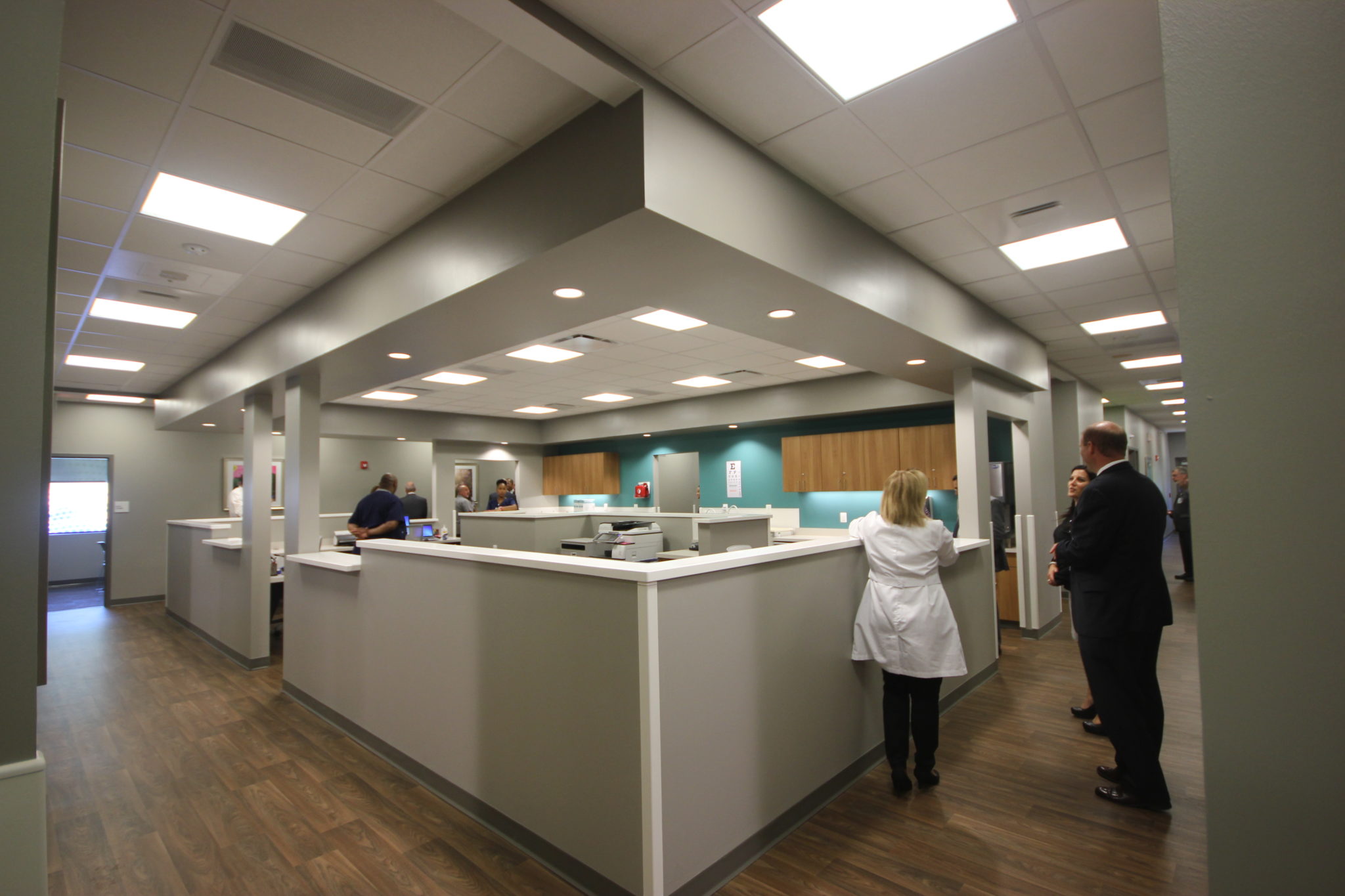 Streamlining the Quality of Care & Patient Experience
The center collaborative workspace has a lower transaction area so the nurse and the doctor can stand, write notes, and converse. It also functions as a dropping off point for the physician when coming out of a room to quickly make notes on a chart, pass it to staff, and visit the next patient. Streamlined and efficient, speeding up the task-oriented operations allows the doctor to see more patients.
"Virtua has been really focusing on the patient-doctor interaction time and cutting down the wait time of each client," Valins says, echoing President and CEO of Virtua, Rich Miller's words: "We're really seeing a change in the environment for healthcare, in primary care, in urgent care, but even in specialty care. So it's warmth of the office environment, it's the ability for the patient to feel that he or she is getting personal care, direct care from his physician."
Each exam/consult room is similarly standardized to streamline the process across each location so doctors can go from one room to the next and everything they reach for and touch is in the exact same place no matter what. That familiarity comforts patients and increases efficiency of care.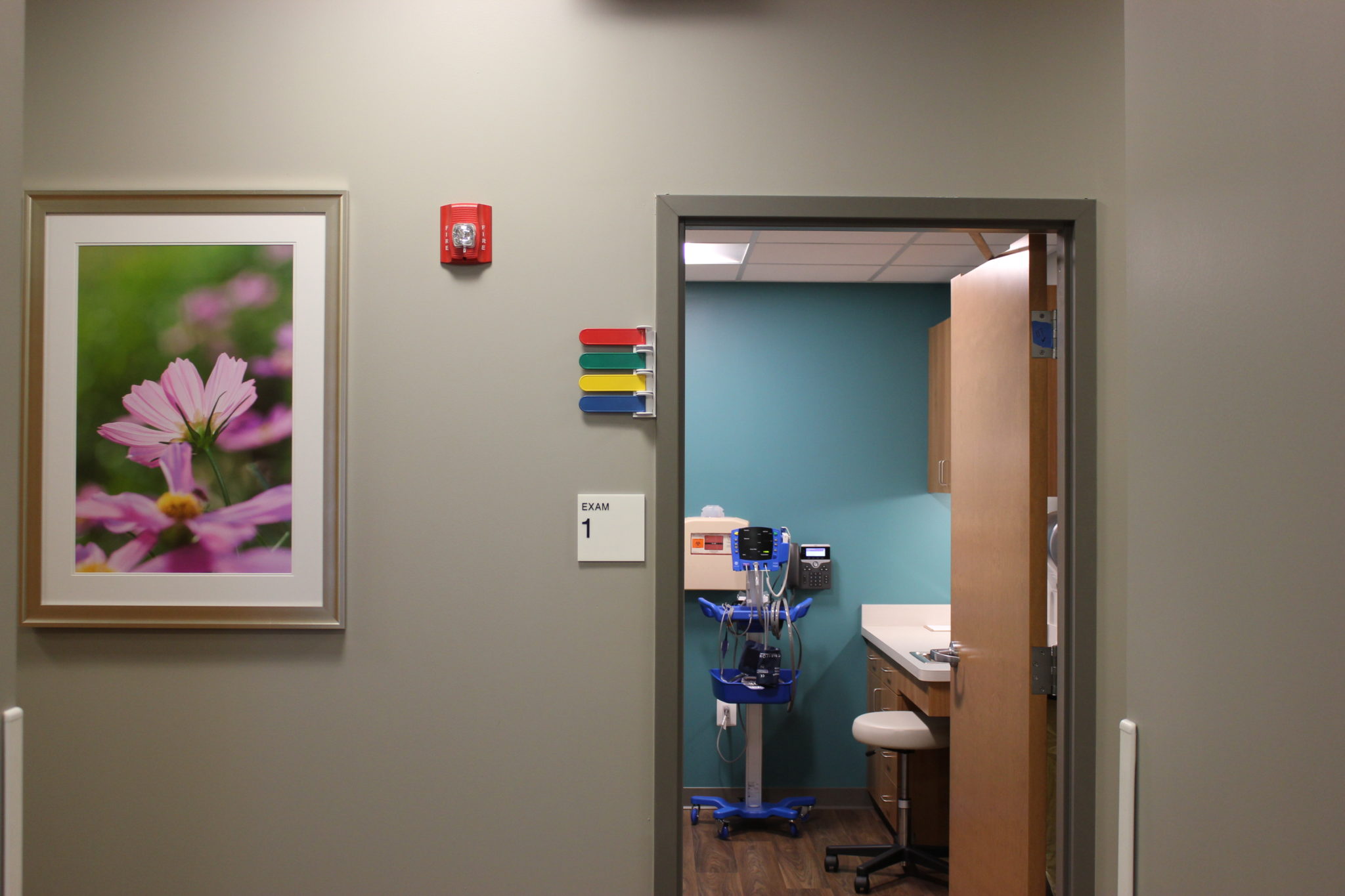 "We are committed, alongside of Virtua, to reevaluating everything to see how we can do it better. It's a series of learning, unlearning, and relearning," Valins explains.
Visually Strengthening the Virtua Brand
In addition to space planning, TONO Architects' Interior Designer, Angelique Miller, NCIDQ, helped visually strengthen the brand. "They used the term 'hospitality' a lot. They didn't want it to feel like a clinical space." Tasked with warming a traditionally sterile environment, the space has a more retail feel. The color palette is brighter and incorporates pops of color including lime green, turquoise, and teal. "Blues are calming," Miller says, explaining that she used trendier color pairings of blue and green and avoided reds. "We used color heavily, as opposed to plain white with colorful carpet."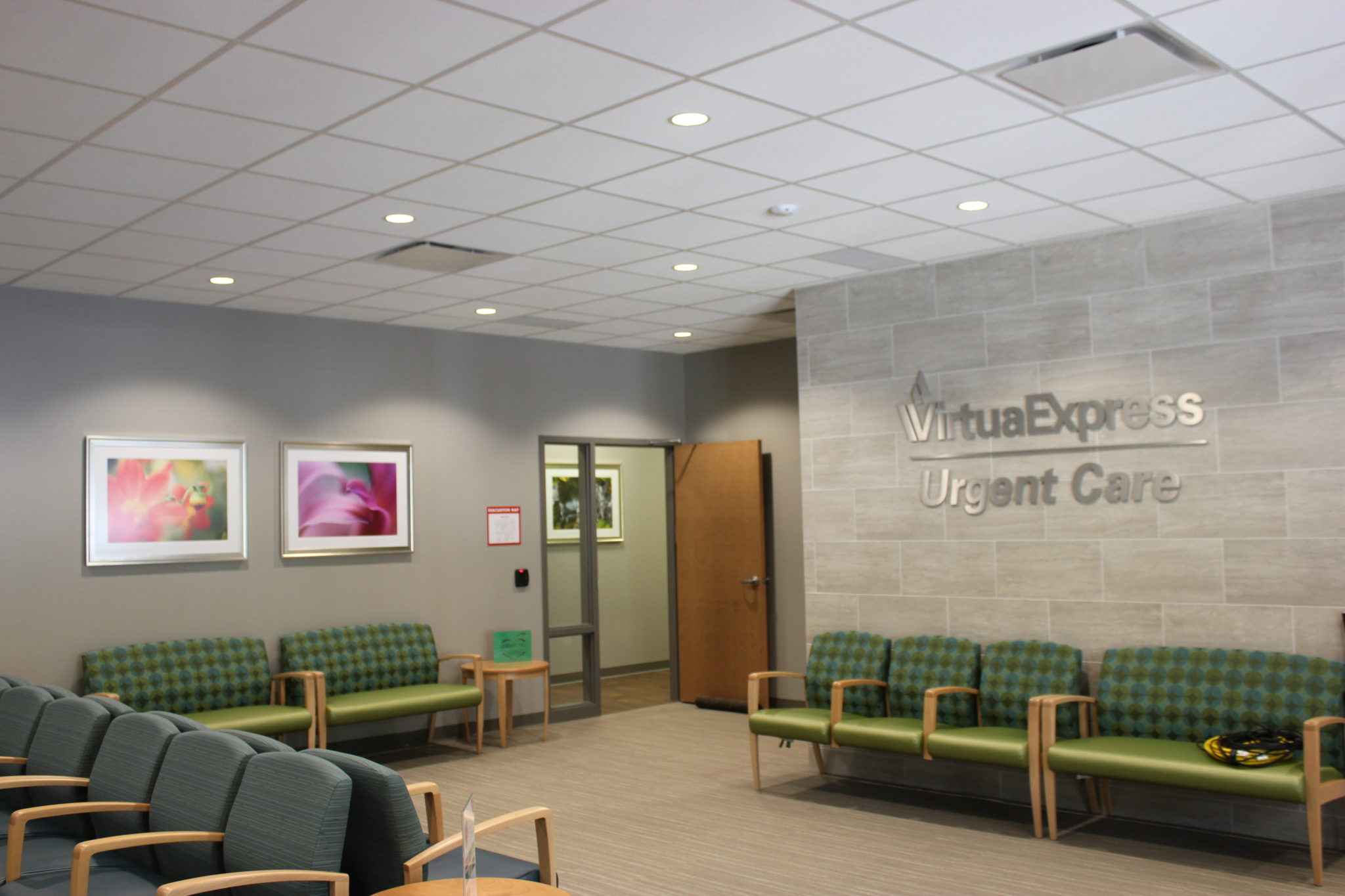 Incorporating higher-end finishes makes the space feel homey while sheet vinyl was used throughout the Urgent Care, once you pass through the waiting room, because of the ease of maintenance. "Carpet feels less sterile so hard surfaces were used because they could be cleaned easily. Sheet vinyl was also used throughout the corridors and exam rooms," she explains. Finally, by incorporating the use of tile in certain areas, the space has a more upscale cosmetic feel.
Outcome
"The overall goal of Cherry Hill was to make it feel familiar, warm, and inviting—not so clinical," reiterates TONO Architects' Director of Architecture Sharlee Van Tine, AIA, LEED AP. "The end result is very progressive, user-friendly, and a good balance of efficiency and comfort. It embodies the Virtua brand."