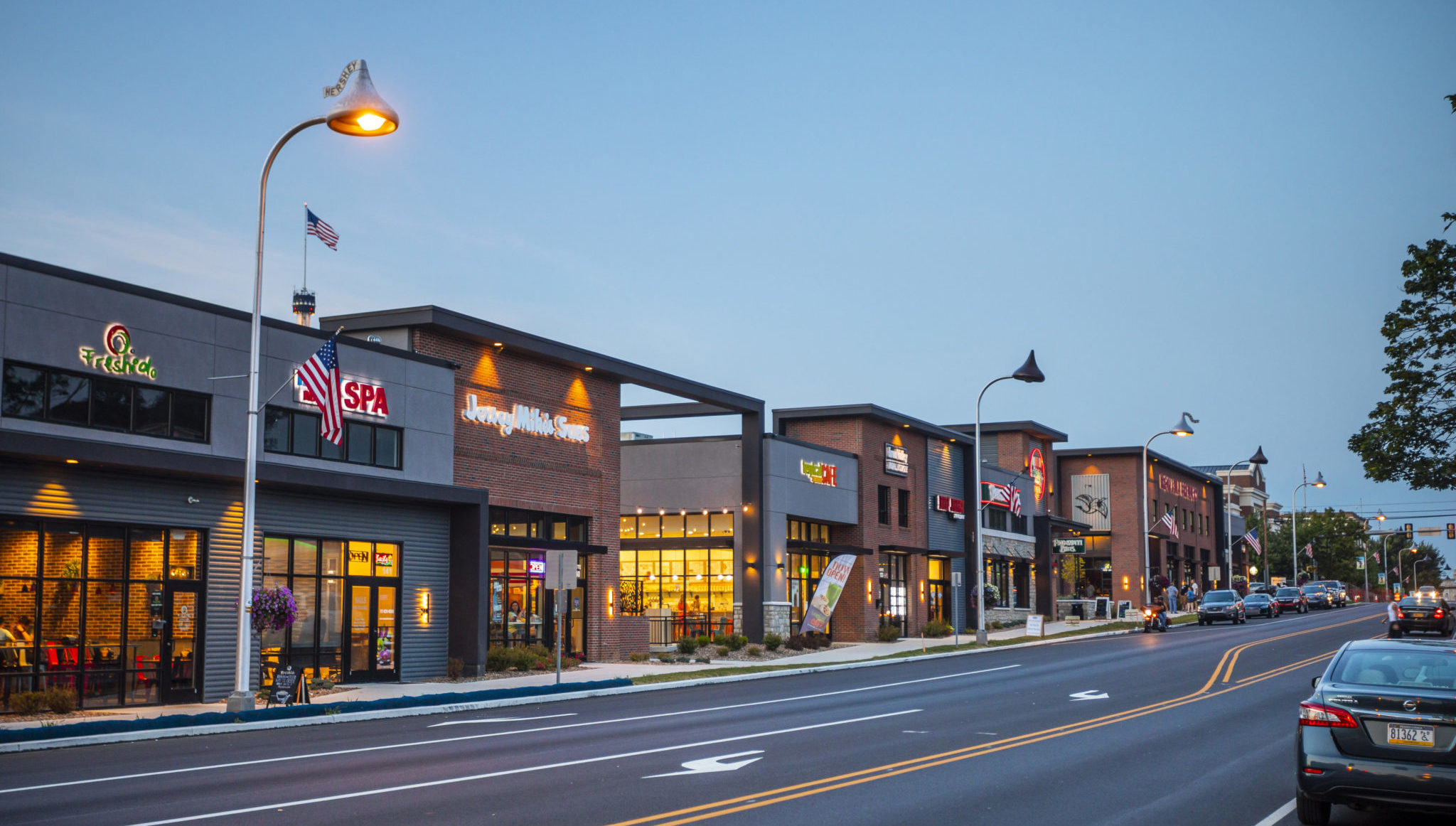 HERSHEY TOWNE SQUARE WINS AN AIA CENTRAL PA EXCELLENCE IN DESIGN AWARD
TONO Architects' design for the Hershey Towne Square development project in Downtown Hershey received a Citation Award at this year's AIA Central PA Excellence in Design Awards.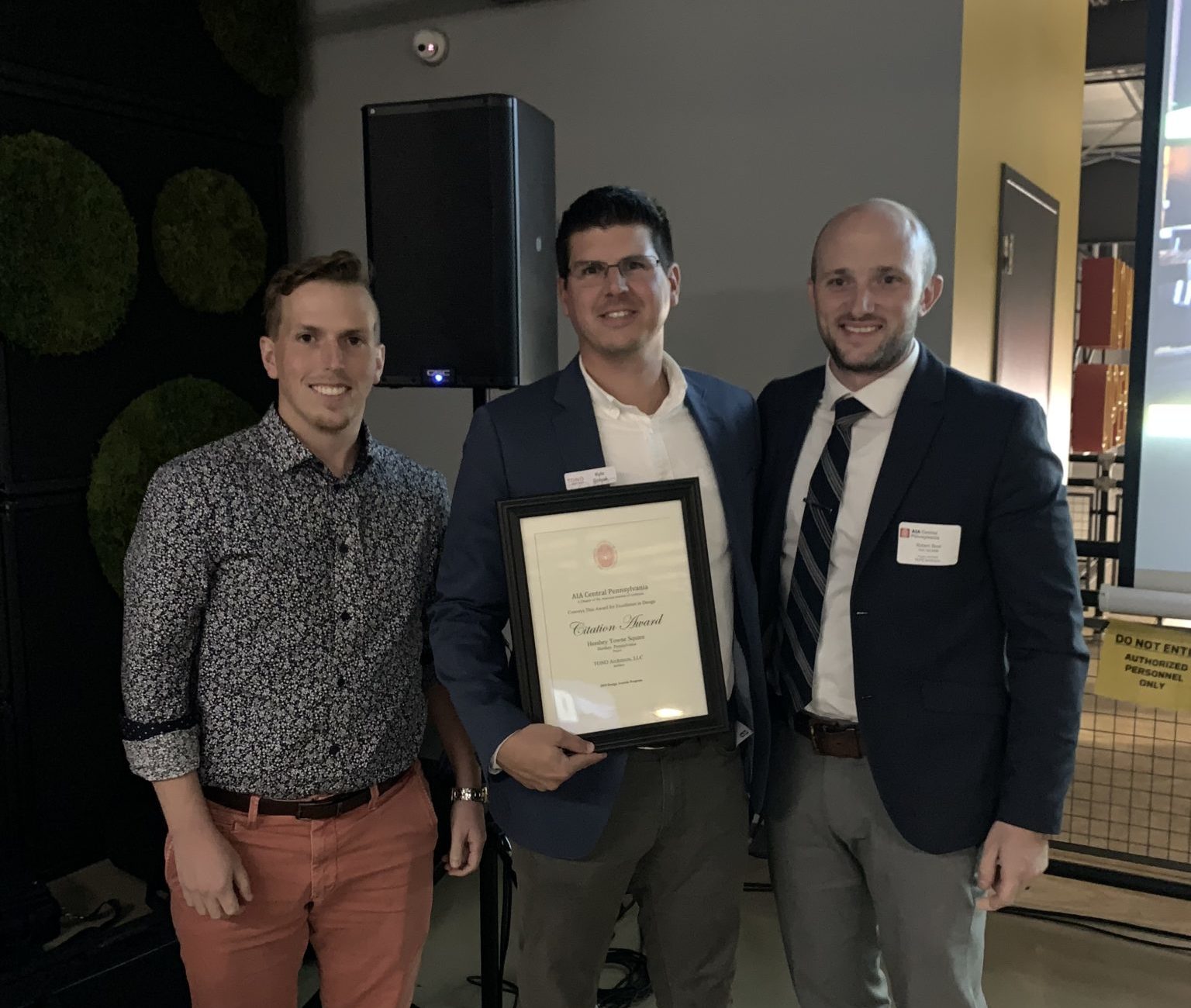 Project Architect Kyle Solyak, AIA (middle) and Architectural Designer, Colin Rupp (left) accept TONO's Citation Award at the annual AIA Central PA Design Awards Ceremony.
Citation awards are presented to firms for work that illustrates a high level of design conceptualization and implementation—we're honored to be recognized by this year's jury of fellow design professionals! Read below for the jury's comments on the project:
Hershey Towne Square has transformed a derelict vacant property into a place for people. Through a limited palette of materials, syntax, and a unifying "ribbon" that references the nearby Hersheypark roller coaster ride, this urban redevelopment offers a singular design expression with variation and rhythm, avoiding the trap of pastiche and compositional collage. With their commitment to public open space, the architects behind Hershey Towne Square invested just as much thought and care to quality of place between retail establishments as they did to the structures themselves. Hershey Towne Square has fulfilled its promise to serve as both a destination and connective tissue for downtown Hershey.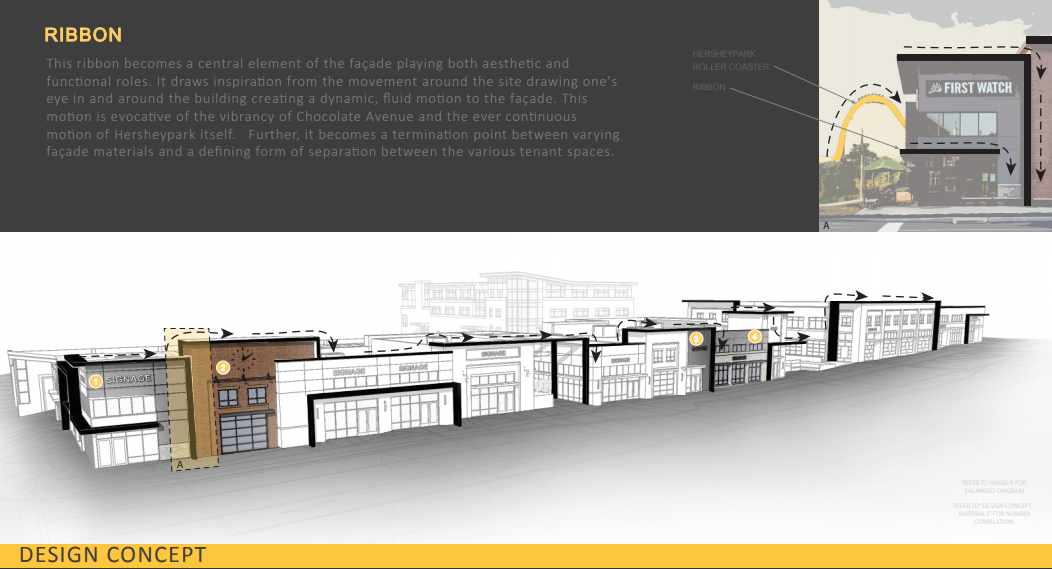 Hershey Towne Square Design Concept
Earlier this year, the project was also recognized by Visit Hershey & Harrisburg with a Destination Development Award for outstanding achievement in travel, tourism and hospitality.
From its inception, Hershey Towne Square was meant revitalize the Downtown Hershey area, giving visitors more to enjoy than just nearby Hersheypark. The project aligned well with the Downtown Hershey Association's Plan for Continued Revitalization, which supports expansion of the tax base, street level activity, higher density, diverse construction and architectural styles, and structured parking.
After adjusting the initial project concept in 2017, RVG Management & Development Co., Wohlsen Construction and TONO Architects delivered three new commercial buildings on West Chocolate Avenue in 2018, offering 32,000 square feet of leasable space for retail and restaurant tenants. These tenants include First Watch, Starbucks, Primanti Bros., and Iron Hill Brewery, among others.
Before your next visit, be sure to check out Lebanon Daily News' list of Top 5 Places to Eat at Hershey Towne Square.